SPECIAL CONTESTS ISSUE
Over $1800 in prizes to be won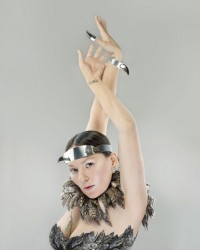 Concert-wise, this month is as busy as any, with lots of musical offerings in the city—and The WholeNote has put together a special issue of contests to cure your February blues.
From choral concerts, to a night at the opera, to a special weekend package of tickets to three live shows, take a look at the prizes up for grabs below and see what tickles your fancy. This month's prizes include:
- "Eclectic Circuit": A special weekend package, with tickets to Show One's Vadim Repin Canadian recital debut, The Musicians In Ordinary, and the Vienna Piano Trio: March 6-8
- The COC's Don Giovanni: February 18
- Arvo Pärt's Passio with the Toronto Mendelssohn Choir: March 10
- The "Publisher's Party": Music Toronto's concert with The Gryphon Trio: February 26
- Ukulele superstar Jake Shimabukuro: March 4
- Continuum Contemporary Music: 30 MORE!: March 8
- Tanya Tagaq, Radik Tyulyush and more at the Aga Khan Museum: March 6-7
Apply for any that interest you on our website, and you may get the chance to get out and listen to some great live music this month!
Music for (and in spite of) Valentine's
Valentine's Day is just around the corner, and is always a good excuse, whether in pairs or in groups, to explore the myriad special events that the city always has on offer f0r the occasion. Whether you're hoping for a romantic outing or just on the lookout for some quality music, this Saturday promises a number of opportunities for the Valentine's Day concertgoer.
Prominently featured in our listings this month are those concerts and events that refuse to shy away from the sometimes-touchy Valentine's Day theme—and often producing unique programming as a result. The Guelph Symphony Orchestra presents a concert Saturday night that will feature Prokofiev's Romeo and Juliet (incidentally, the Hamilton Philharmonic Orchestra will also be playing a "Romeo and Juliet"-themed concert, the following weekend on February 21). And on the jazz front, Alleycatz, Chalkers Pub and Palais Royale will all be hosting Valentine's Day dinners that feature live music by talented local performers. Finally, the Toronto Beaches Children's Chorus presents "For the Love of Music" on Saturday at 3pm, an all-ages concert featuring soprano Shannon Mercer, tenor Lenard Whiting and pianist Brett Kingsbury.
For those not in the mood, New Music Concerts is presenting an innovative program of works by contemporary Chinese and Canadian composers. Titled "New Works from East and West," the show will feature pipa virtuoso Weiwei Lan, soprano Stacie Dunlop and violinist Véronique Mathieu. The program is a promising collection of entirely world premieres, an exciting prospect for any new music fan. Also onstage in venues throughout the Danforth this weekend is the Toronto's eighth Winterfolk Blues and Roots Music Festival. Billed as an "all-ages, mid-winter, weatherproof event," the festival will feature over 150 artists across five venues from February 13 to 15. The "weatherproof" aspect is enticing, as is the list of performers. To learn more about the festival, check out winterfolk.com.
SEASON'S GREETINGS
2015/16 season announcements have been cropping up left, right and centre.
Please find below links to news about the year ahead, from the a number of local concert presenters:
The Royal Conservatory:
http://performance.rcmusic.ca/performance-all?season%5b0%5d=5926&mcclnktrk=4
The Toronto Symphony Orchestra's:
http://www.tso.ca/en-ca/Media-Room/Media-Releases.aspx?entryID=42430
The Canadian Opera Company:
http://www.coc.ca/PerformancesAndTickets/1516Season.aspx
Opera Atelier:
http://www.operaatelier.com/season/15-16-season/
Tafelmusik:
http://www.tafelmusik.org/concert-calendar/upcoming-season
We will keep you informed, in print and online, as more presenters announce their plans for the coming year!
JUST IN: CORRECTED AND NEW LISTINGS
Check out our HalfTones listings for info on corrected and new February concert listings added online since this month's print issue.
First, an apology: we seem to have omitted Hirut Café and Restaurant's listings from our February "In the Clubs" section. Here they are:
Hirut Cafe and Restaurant
2050 Danforth Ave. 416-551-7560
Every Sun 3pm Open Mic with Nicola Vaughan: folk/country/jazz/world/R&B PWYC; 8pm Eucalyptus Ethio-jazz/Calypso 7-piece band $10/PWYC. Every Wed 8pm Illios Quartet: Smooth Jazz PWYC. February 3, 17 8pm Finger Style Guitar Association PWYC. February 5 7pm In the Round: Master and Smorgasbord Series: jazz/folk/world $10/PWYC. February 14 Romancing the Tone with Sharon Katz: folk/world $10. February 20 8pm Winter Wonderland w/ Arlene Paculan and Friends: pop/eclectic PWYC. February 21 8pm James Brand with Joanne Shaw: British Folk $15(adv)/$18(door). February 27 9pm Hirut Hoot Cabaret $5.
Other corrected and new listings this month include:
Friday February 13
7:00: Just Aïssi. Black History Month: Gumboots Dance. A program and workshop to learn about the Gumboots dance style from South Africa. Just Aïssi, choreographer and percussionist. North York Central Library Auditorium, 5120 Yonge St. 416-395-5639. Free. Call ahead to register.
Saturday February 14
3:00: Toronto Beaches Children's Chorus. For the Love of Music. All-ages concert to benefit the Toronto Beaches Children's Chorus Bursary Fund. Shannon Mercer, soprano; Lenard Whiting, tenor; Brett Kingsbury, piano. Kingston Road United Church, 975 Kingston Rd. 416-698-9864. $20; $15(sr/st); $10(12 and under). Special pricing available for TBCC families.
9:00: Music Africa/Gladstone Hotel/Africa New Music. Yinka Farinde (Nigeria). Part of the Black History Month 2015 Concert Series. Gladstone Hotel, 1214 Queen St. W. 416-649-5336. Free.
Saturday February 21
9:00: Music Africa/Gladstone Hotel/Africa New Music. Amadou Kienou (Burkina Faso) & Katenen Cheka (Mali). Part of the Black History Month 2015 Concert Series. Gladstone Hotel, 1214 Queen St. W. 416-649-5336. Free.
Sunday February 22
6:00: Duo Agilis. Themes and Variations for Flute and Piano. Duo Agilis: Izabella Budai, flute; Peichen Chen, piano. Hart House, East Common Room, 7 Hart House Circle. 416-978-2452. Free.
Friday February 27
8:00: Stereo Live. Haydn, Beethoven and Canning. Works by Haydn and Beethoven, followed by a set with Broken Social Scene's Brendan Canning and friends. Brendan Canning; Keith Hamm, viola; Edwin Huizinga, violin; Aaron Schwebel, violin; Joseph Johnson, cello. Campbell House Museum, 160 Queen St. W. 416-597-0227 x2. $20(adv); $25(door); $50(3-concert series). Doors open at 7pm.
Saturday February 28
8:00: Bell'Arte Singers. Masses: Dvorak Mass in D & Schubert Mass in G. Dvorak: Mass in D; Schubert: Mass in G. St. Simon-the-Apostle Anglican Church, 525 Bloor St. E. bellartesingers.ca. $25; $20(sr/st).
8:00: Fanfarones! Hot Springs Serenade. Double wind quintet music to warm the path to spring. Dvorak: Czech Suite; Bird: Serenade; Scott: Sacred Women. Wilmar Heights Centre, 963 Pharmacy Ave., Scarborough. 416-759-7269. $20; $15(sr/st).
NEW ON OUR WEBSITE
Visit our video page to see our latest Conversation@TheWholeNote, where in light of the Gryphon Trio's upcoming concert with Music Toronto, publisher David Perlman talks with the ensemble's pianist Jamie Parker about his life as a performer, professor and a Parker.
Check out the video, and other online interviews, at http://www.thewholenote.com/index.php/newsroom/our-videos.
THANKS FOR SUBSCRIBING
Our next issue of HalfTones, Vol 2 No 7, is out on March 12! The next print issue of The WholeNote, covering March 1 to April 7, will be published on February 27.
Please contact halftones@thewholenote.com with any HalfTones inquiries.