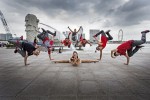 Early Music, New Spaces
Fall is officially upon us, and a number of music presenters are making the most out of the changing seasons as an opportunity to experiment with new ideas. In the coming weeks, early music groups in particular get the nod for programming much-loved classics with an unusual—or seasonally appropriate—twist.
Tafelmusik's Tafelscene program, geared at audiences aged 35 and under, gears up for Concert 2 of their popular series Baroque + Beer, at the Tranzac Club. This time around, it'll be an October 30 "Hallowe'en Madness edition," which promises attendees "a night of beer, music, and spooky good times in honour of Hallowe'en." Advance tickets are $20 and include beer samples. For details on this ages 19-35 event and other upcoming Tafelmusik programming for audiences of all ages, check out http://www.tafelmusik.org/concerts-tickets/tafelscene-35-under/baroque-beer-halloween-madness-edition (tafelmusik.org).
In the same vein, Red Bull, of all presenters, brings to Toronto this week an intriguing marriage of Bach and breakdancing. October 16 to 19 at Massey Hall, Red Bull presents Berlin-base dance troupe The Flying Steps, performing with Swedish dancer Anna Holmström to the live accompaniment of excerpts from J.S. Bach's The Well-Tempered Clavier. For an idea of how The Flying Steps interprets Bach with breakdance, here's a clip from one of the group's earlier performances in their 2014 tour:
If you don't yet have plans this weekend, this show may just be one to put on your calendar. More info is available at http://www.masseyhall.com/eventdetail/redbullflyingbach, or at http://www.redbull.com/ca/en/music/events/1331678191814/red-bull-flying-bach-canada.
Music That Meets the Eye
On October 19 and 20, Continuum Contemporary Music presents "Souvenir," an event that features a world premiere nearly 20 years in the making. Six Canadian composers—Linda Bouchard, Alice Ho, Jocelyn Morlock, Michael Oesterle, Randall Smith and Hiroki Tsurumoto—have teamed up with filmmaker Gary Popovich to craft a six-movement, hour-long film shaped by the evolution of our world. The event is billed as a collaborative creation of music and images that "move from our cosmological beginnings through the geological underpinnings of life on earth; major events in human development; and through perpetual cycles of creation and destruction, dizzying heights and meaningless depths." Souvenir's soundtrack will be played by performers from the Continuum ensemble, alongside vocalists Shannon Mercer (soprano) and Krisztina Szabo (mezzo-soprano).
"Souvenir" is on at Betty Oliphant Theatre; tickets are $30 with discounts available for seniors, arts workers and students. For a sneak peak, take a look at this video, or visit continuummusic.org.
"One To Watch" is here to watch!  Irmina Trynkos
Feb 2013 WholeNote reviewer Terry Robbins flagged violinist Irmina Trynkos as "one to watch" in a write-up of her debut CD with the Royal Philharmonic Orchestra. He'll be at her October 25 performance with Sinfonia Toronto at the Toronto Centre for the Arts. So watch for his blog. Or better still, go hear for yourself. 
Music on Film
Finally, Music on Film, the popular series co-hosted by the RCM and Hot Docs, returns October 28 to March 31, showcasing five different music documentaries. Each screening will also feature guest artists in conversation with Mervon Mehta, the Royal Conservatory's executive director of performing arts.
Fados, the first film of this year's series, will be at the Bloor Hot Docs cinema on Tuesday, October 28. This Portuguese film, directed by Carlos Saura, examines the musical genre of fado through an exploration of the city of Lisbon. Find out details on this film, and others in the series, at http://bloorcinema.com/templates/content/music_on_film.
PRIZES, PRIZES!
WIN tickets to the TSO's "Romeo & Juliet" concert featuring violin superstar Nicola Benedetti (along with a collection of Benedetti's CDs); tickets to the Royal Canadian Military Institute's 25th annual Massed Military Band Spectacular at Roy Thomson Hall; places in "The WholeNote publisher's party" at the Ken Page Memorial Trust annual gala and more! Just click the links below and follow the instructions to enter in the contests of your choice. Feel free to enter all three!
ST. STEPHEN-IN-THE-FIELDS' FUNDRAISING GALA OCTOBER 24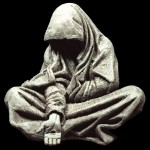 This October 24 at 7pm, the Church of St. Stephen-in-the-Fields presents a gala evening to raise funds for a permanent bronze version of Timothy Schmalz's sculpture "Whatsoever You Do," also known as "Panhandler Jesus." The evening includes two sets of live music as well as food and wine, featuring performances by pianist Richard Herriott, flautist Isabella Budai with pianist Pei Chen, soprano Mikahi Vergara, and folk artists The Band and Dinah Thorpe, to name a few.
Schmalz's sculpture has a storied past, its original resin cast having been stolen from the church and then promptly returned with an apology note last winter, only to have shattered from the cold one month later. The community is looking forward to welcoming a permanent version of this work, and this gala will provide the means to help cover the final costs of the art piece.
Tickets are available at the door on the 24th for $20, but reservations are requested; for details, visit saintstephens.ca.
Other new or corrected (*) listings this month include:
Thursday October 16
8:00: Mikhail Turetsky. Soprano. Vocal performances in a variety of styles and languages. Queen Elizabeth Theatre, 190 Princes' Blvd. 416-721-4662; 416-226-9151. $55-$95.
Monday October 20
9:30: The Rex Hotel. Mike Herriott and the OTR Band. Tunes by Freddie Hubbard, The Who, Herriott originals, and a special tribute to the late great Kenny Wheeler with a Wheeler arrangement Wheeler of one of Herriott's pieces. Mike Herriott, trumpet; and others. 194 Queen St. W. 647-888-6707.
Friday October 24
6:00: Guelph Youth Singers. GYS Fall Gala: Giving Youth a Voice. Fall fundraising gala with music by GYS Choir III and SATB Choirs. Markus Howard, conductor; Ken Gee, accompanist. Hanlon Convention Centre, 340 Woodlawn Rd. W., Guelph. 519-821-8574. $100.
7:00: St. Stephen-in-the-Fields. Gala Fundraising Evening. Fundraising gala to cover costs of Timothy Schmalz's "Panhandler Jesus" sculpture. Richard Herriott, piano; Pei Chen, piano; Isabella Budai, flute; Clement Carelse, organist; Neil Houlton, organist; Mikhai Vergara, soprano; and others. 103 Bellevue Ave. 416-921-6350 or 437-345-5889. $20, reservations required.
Wednesday October 29
8:00: Flato Markham Theatre. Mercedes Cheung, violin. Violin recital by 12-year old Mercedes Cheung. Works by Bach, Paganini, Tchaikovsky, Brahms, Waxman, Gade, Khachaturian, and others. Mercedes Cheung, violin; Jeanie Chung, piano. 171 Town Centre Blvd.,Markham. 905-305-7469. $20; $5(child/st).
Thursday October 30
7:00: Astana Opera. Voice of Asia. Works by A. Zhubanov, L. Hamidi, E. Rakhmadiev, T. Muhamejanov, Verdi, Tchaikovsky and others. Yerzhan Kulibayev, violin; Astana Opera House Symphony Orchestra and Chamber Choir; Abzal Mukhitdinov, conductor; and others. Sony Centre For The Performing Arts, 1 Front St. E. 1-613-695-8055 x221. $25 and up.
NEW ON OUR WEBSITE
Check out David Podgorski's blog post on the Toronto Early Music Fair, now online at thewholenote.com! Read it here. 
THANKS FOR SUBSCRIBING
Our next issue of HalfTones, Vol 2 No 3, is out on November 13! The next print issue of The WholeNote will be published on November 1.
Please contact halftones@thewholenote.com with any HalfTones inquiries.