Pianist-composer Zygmunt Krauze, the subject of my last blog, presented a public lecture on his and his fellow Pole's music by at the Faculty of Music, University of Toronto. For over 40 years Krauze has enjoyed a successful career not only as a musician but also as a key administrator in both the Polish and international new music scenes. His insights therefore reflect a refreshingly positive central European point of view on new music. It certainly puts into relief what many insiders believe is the veritable outsider status Canadian new music and musicians generally enjoy today.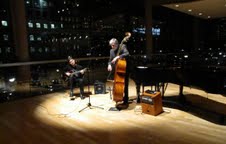 The word "privileged" kept going through my head as I stood in the Richard Bradshaw Amphitheatre in Toronto listening to a jazz concert last Wednesday evening. The word can have negative connotations, since opera and other "high brow" artistic endeavours are often perceived as being accessible only to the educated and wealthy. Certainly the Canadian Opera Company (COC) and the Four Seasons Centre, where the Richard Bradshaw Amphitheatre is located, would be familiar with such accusations. But as I enjoyed a free concert, being played by two of the finest jazz musicians in this country, in one of the most breathtaking performance spaces I've ever been in, "privilege" took on a whole new meaning.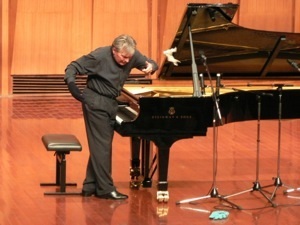 "What makes a complete musician?" That was the thought-provoking question Robert Aitken, New Music Concerts' artistic director and host of Monday night's concert at Gallery 345 asked the evening's featured soloist, Polish pianist-composer Zygmunt Krauze.
Aitken answered his own question first. He revealed that when wearing his composer's hat, his mission draws him deep inside in reflection and soul-searching self-examination. On the other hand, as a performer, he finds he must direct his energy outward to be able to engage musically with his colleagues and audience. The dichotomy is enough to tear a sensitive artist apart.
On the contrary, Zygmunt Krauze pointed out that the classical triumvirate skill set of performing musician-composer-teacher has worked for him very well. Each aspect had in his case reinforced the other to help him build a 50-year career as a "complete musician." In fact, he added, that three-cornered job-description has been the gold standard of almost all of the notable composers Europe has produced.
With philosophical matters out of the way, Zygmunt Krauze's piano recital followed on the heels of Sunday's concert. That concert featured small and large ensemble performances of the music of a cadre of contemporary Polish composers, at the CBC's Glenn Gould Studio. The present recital, however, was dedicated to the piano music of just three Polish composers, active over three centuries: Chopin, Lutoslawski and Krauze himself.
Krauze began with a muscular performance of Fryderyk Chopin's Mazurka, a-moll no. 4 op. 67 (1846), which filled the intimate gallery space with the lush sonorities of the freshly tuned grand piano. Krauze's interpretations are by no means standard, however. He regularly employs unorthodox dynamics, articulation and tempi – and even more unusual is his practice of moving off in an unexpected improvisational tangent. He did just that in this 19th-century opus, as well as in an early work by his colleague and friend, the late Witold Lutoslawski.
Zygmunt Krauze's own music for piano ranged from the early pseudo-folk – Six Folk Melodies (1958) – to the physical theatre of Gloves Music (1972), and to his mature multi-layered musical voice revealed in Refrain (1993).
For me, his Stone Music (1972) proved the most magical music journey of the evening. Performed directly on the strings of the piano and eschewing the keyboard, Krauze employed just three stones and two small metal rods to evoke slowly shifting and eerie sound clouds. Most remarkably, at times the sound which filled the space evoked quite accurately a string section and at other times a wind choir. It was soft and quite exquisite.
Andrew Timar

One measure of the impact an art group has in its community is in the reception and honours accorded its director. "It's all in the timing," said Robert Aitken, the artistic director and resident conductor of New Music Concerts (NMC) Sunday night. Aitken accepted his 2009 Walter Carsen Prize for Excellence in the Performing Arts with easy grace and humour.
The public acceptance of this award signaled an acknowledgment not only of the very significant contribution by Aitken to the cause of new music in Canada, but also of an official appreciation by the Canada Council of the seemingly marginalized high-art culture that NMC represents.
Aitken's award was just a preamble to the evening, however. The central occasion was the inaugural concert of the four NMC events called Polish Perspectives, curated and headlined by the distinguished Polish pianist and composer Zygmunt Krauze.
Krauze's compositions on display included his early Polychrome (1968). The unlikely ensemble of clarinet, trombone, cello and piano was surprisingly effective in sustaining what the composer refers to as "the continuation of one sound structure without changes or contrasts." Despite its achowlegded debt to the unitary theory of the Polish painter Wladyslaw Strzeminsky, this work also remarkably captures the Zeitgeist of the minimalist music scene of the time developed by its US pioneers LaMonte Young and Terry Riley.
That Polychrome's premiere took place at the Royal College of Art in London in 1968 is further proof that Iron Curtain-era Polish composers were not all working in a Soviet cultural backwater. On the contrary, some of them were evidently plugged into the mainstream of the European avant guard. The vigour of the well-crafted compositions of the youngest generation of Polish composers such as Wojciech Blazejczytk, Agata Zubel, and Pawel Mykietyn, all exhibiting work last night, attests to that international pedigree. In contrast to Polychrome, Krauze's other work performed by NMC, his masterful and mature Piano Quintet (1993), sounded resolutely tonal in language.
Andrew Timar

He's been called "probably the most uncompromising musician in Canadian musical history" by Robert Aitken, director of New Music Concerts. Udo Kasemets' compositions have made an indelible and enduring contribution to the Canadian modernist and postmodernist music landscape. Through his concert activism he also introduced the music of the American and European avant garde to the Toronto public.
In fact, Kasemets' career encompasses the story of the avant garde of the second half of the 20th century in our town. It is fitting that now in his 90th year, New Music Concerts is celebrating that contribution.
The "Decade With No Name" (the "Aughties" never quite caught on) has now ended. And while there was no audible bang or whimper at its close, for classical music fans in Toronto, the decade will be remembered as eventful. Not only was there an abundance of musical performances of all kinds, there were also fundamental shifts in the cultural landscape. Some of these changes were beneficial; others weren't – but they'll all have a long-term impact on classical music in this city.
Here's my own list of the ten most consequential and era-defining events, during the first decade of the 21st century.
It never ceases to amaze me that Glenn Gould remains so fascinating to the world, more than a quarter-century after his death. There's been so much biographical material already produced about Canada's most famous pianist that you'd think the topic would be pretty much exhausted by now.
On the contrary. This year, another Gould book, entitled simply Glenn Gould, by Mark Kingwell, was published. I've not read it yet – but Pamela Margles, The WholeNote's book critic, reviewed it in our December-January issue. (You can read her review here.) And now we have a new documentary film, Genius Within: the Inner Life of Glenn Gould, which I saw last night at the Royal Cinema.
Filmmakers Peter Raymond and Michèle Hozer have done a commendable job of patching together an impressive amount of footage of Gould. We see him in New York, in Massey Hall, at his cottage in Muskoka, singing to elephants at the zoo, and even making a nutty home movie while on holidays in the Bahamas.
Interspersed with archival footage, there are interviews with people who knew Gould. Here the film breaks new ground, revealing the cerebral musician as more human than he's often portrayed. There are interviews with three women in his life – yes, there were women in his life – including Cornelia Foss, who left her husband, the composer Lukas Foss, to live near Gould in Toronto for four years. (This first became public knowledge thanks to an article in the Toronto Star, a couple of years ago.) Ms. Foss is interviewed, and she tells much, if not all, about the relationship.
The film also doesn't pull punches about Gould's hypochondria, either. Indeed, it's a little horrifying to learn how he managed to get multiple prescriptions from multiple doctors – without anyone in the medical world noticing what was going on, and putting a stop to it.
Everyone interested in Gould should see this movie. Unfortunately, it plays at the Royal only until December 8. However, I hear there are plans for the film to be broadcast by Bravo Television in February. And I expect it will be available in the video rental shops before too long.
Colin Eatock, managing editor

Well now, this looks like fun. Tafelmusik has launched a Sing-Along-Messiah video contest. They're inviting Handel enthusiasts to submit (by December 12) video clips of themselves performing Messiah excerpts. There will be prizes for Best Overall Performance, Best Group/Family, Best Soloist, and Most Creative. The best video clips will be posted online, and winners will be invited to appear on stage in Tafelmusik's Sing-Along Messiah at Massey Hall on December 20.
Personally, I think it would have been interesting to have another prize for Most Historically Inauthentic Performance – but I expect they'll get plenty would fall in that category, anyway.
According, to Ivars Taurins, director of the Tafelmusik Chamber Choir, the idea comes from a CBC radio contest for which he served as a judge, a few years ago. At that time, people were invited to submit their do-it-yourself Messiah audio recordings. Tafelmusik has updated this concept by adding a video component.
"We're looking for people to be creative and inspirational," he explains. "They can get the family together, sing a duet with a friend, or have the dog join in. It can be anything from a serious performance from a professional or amateur, or from a student or child, to something lighthearted."
I hope Tafelmusik's challenge results in some imaginative approaches to Handel's perennial favourite. And just so everyone who's tempted to enter the contest is well aware of how high the bar has already been set, here's a YouTube video clip of the Northwestern University Kazoo Choir's inimitable rendition of the "Hallelujah Chorus":
http://www.youtube.com/watch?v=yhlm232KRlQ
Colin Eatock, managing editor

The COC's Diamond Anniversary Gala was an unforgettable evening of magnificent music making. Ben Heppner may have pulled out of the concert, but the real star of the show, in any case, was the COC Orchestra led for the first time by Johannes Debus as its new music director. The shell built for Robert Lepage's The Nightingale now allows the orchestra to sound great not just in the pit but also on stage.
The concert began with a sparkling performance of Berlioz's Roman Carnival Overture, then alternated excepts from Berlioz's La Damnation de Faust with arias from Gounod's Roméo et Juliette sung by Mexican tenor Ramón Vargas and Canadian baritone Russell Braun. The first section concluded with Vargas' hugely impressive account of "Nature immense" from La Damnation. Throughout the Berlioz, the orchestra's precision of attack, its internal clarity and the lush colours of its sound repeatedly reminded me of the Montreal Symphony in its glory days under Charles Dutoit. Debus clearly enjoys conducting the orchestra and they just as clearly enjoy playing for him. The encore of "Au fond du temple saint" from The Pearl Fishers, sung by Braun and Vargas, drove the audience to a prolonged standing ovation.
After intermission, the intelligently planned programme turned from Berlioz to Wagner, with Debus highlighting the influence of the former on the latter. A wonderfully warm and joyous performance of the Prelude to Die Meistersinger was followed by Cornish Heldentenor John Treleaven's account of Walther's Prize Song from the same opera – then Braun's gorgeous singing of Wolfram's aria "O du holder Abendstern" and Treleaven's moving Rome Narration both from Tannhäuser. The three-part conclusion from Götterdämmerung was Siegfried's Rhine Journey, Treleaven's singing of "Brünnhilde, heilige Braut" and finally Siegfried's Death and Funeral March. The emotion in the last excerpt was palpable, this being the first time the orchestra has played from the Ring Cycle since the death of Richard Bradshaw. It was impossible not to feel that the conflict between grief and heroism in the piece wasn't also meant to reflect the orchestra's view of the General Director who had led it to such a height.
Vargas, a favourite at the Met, gave us a taste of the kind of Italianate, powerfully emotional singing we seldom hear from tenors at the COC. Braun, whose voice seems to grown only deeper and richer with every appearance, triumphed in the sheer beauty of Wolfram's aria, which drew its own standing ovation. Treleaven, who sings almost exclusively in Europe, wasn't as outwardly demonstrative as Vargas or Braun. But he possesses a voice of Wagnerian magnitude, devoid of harshness and shaped by such clarity of diction as to render surtitles superfluous (not that there were any) for anyone who knows German. The final encore, though, fittingly belonged to the orchestra who played the overture to Tannhäuser with such verve and grandeur that one could only hope the work is among the COC's future plans, along with La Damnation.
I left filled with a glow from knowing that we now have not only a great opera house and a great opera orchestra, but also a wonderfully expressive conductor who knows how to bring out the very best.
Christopher Hoile
It sounds like a paradox. The Canadian Opera Company could hardly be more successful with critics and audiences alike, yet it ended the 2008/09 season with a deficit. As COC Board President Paul Spafford made clear at the COC's Annual General Meeting on Wednesday, the COC's operating deficit of $1.6 million for the previous season was directly caused by a shortfall in the company's annual fund-raising programs. No points for guessing that this was a result of the global economic crisis. Fortunately, the COC had ended the six previous years with a surplus. These surpluses furnished the funds the company was able to draw upon to overcome the deficit and end the year $25,000 in the black.
Otherwise, there was only good news. The COC's subscription rate is among the highest in North America. This season only the Metropolitan Opera and Lyric Opera of Chicago will stage more performances than the COC. And, best of all, the 2008-09 season played to 99.7 percent capacity.
As COC General Director Alexander Neef stated, "It has been an extremely exciting first year for me as General Director. I am very pleased and proud to lead a company that produces opera at a level as high as, or higher than, any other North American company with a much smaller budget than those of our North American peers. And, I have been particularly encouraged to see enthusiastic and full houses in the opera house for every performance. I'm glad that we can engage audiences with the breadth and depth of repertoire we produce because it bodes very well for the future of the COC and opera in Canada."
Further good new for the company, now celebrating its 60th anniversary, is that for the first time in almost 20 years, the COC's mainstage season will be broadcast across Canada. In conjunction with its Broadcast Partner, CBC Radio 2, each opera in the COC's 2009/10 season will be aired twice nationally on CBC Radio 2 and Radio-Canada's Espace Musique, and the broadcasts of COC recordings also will be available for internet streaming on both the company's website, www.coc.ca, and on CBC Concerts on Demand, www.cbc.ca/radio2, for a period of 12 months after the initial streaming date. As the producer of these recordings, the COC will also seek additional means of extending the reach of its artistic output into new media platforms such as CDs, DVDs and cinecasts, as well as select National Public Radio stations in the United States.
Christopher Hoile
The WholeNote Podcasts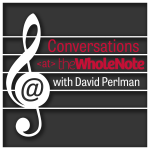 Welcome to the Conversations <at> The WholeNote podcast page. Below you will find our podcast episodes for your listening pleasure.
To listen, you have a few options:
You can listen via this website you can scroll down and find the episode you'd like and click play there.
Or you can download and save the podcasts on your phone, tablet or computer - and then you can listen to it anytime (even without an internet connection) by downloading from the episode articles below.
Or you can subscribe to this podcast on your favourite podcast service including iTunes, Google Play, Stitcher, BluBrry, PocketCasts and more. Just open your podcast app and search for Conversations at The WholeNote and hit 'subscribe'.
If you are unable to find us on the podcast app that you use, please let us know and we'll do our best to try and make it available to you.
Scroll down to select individual episodes to enjoy.