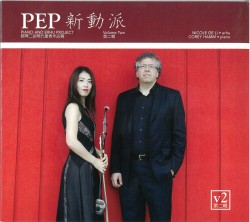 Piano and Erhu Project Volume 2
Nicole Ge Li; Corey Hamm
Redshift Records TK440 redshiftrecords.org
In the February 2015 issue of The WholeNote I weighed in on the satisfying premiere album by the Vancouver Piano and Erhu Project (PEP). With the prompt release of PEP, Volume 2 the transcultural duo of pianist Corey Hamm and erhu virtuoso Nicole Ge Li have further raised the bar. The album offers substantial rewards for listeners. Among them: nine well-crafted compositions in the Western art music tradition for this not-quite-yet standard instrumental pairing by nine composers with strong Canadian ties.
The album's repertoire exhibits several high points including Keith Hamel's emotion-packed, elegiac Homage to Liu Wenjin, nominated for Composition of the Year at the 2015 Western Canadian Music Awards. The other contributing composers are represented with works rich with glints of virtuosity, humour, nostalgia and dreamscape.
It is Who Made the Inch of Grass composed by Aaron Gervais which haunted me the most, however, prompting repeated pleasurable listening. Gervais explores the erhu's richly lyrical voice in his Debussy-daubed work, which in several passages is also subtly favoured with Messiaen-like chordal harmonies in the piano.
The duo's musically nuanced playing, combined with repertoire freshly commissioned in 2013 and 2014 – attractively captured in this recording – has caught the attention of critical ears. The album earned a nomination for Classical Recording of the Year at the 2015 Western Canadian Music Awards. Given the rewards on display here and PEP's ever-growing repertoire and reputation, in what musical directions will Volume 3 take us?