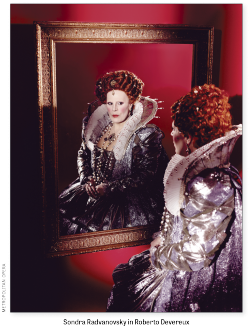 Making our way to Sondra Radvanovsky's rural Caledon, Ontario home, on this particular October day, takes us down a blazing gold avenue to the side door of a spacious country house on ten hilly acres, about an hour and a half's drive from Toronto's Four Seasons Centre for the Performing Arts.
Nice thing about arriving at the side door is it takes one into the house through a light-filled informal side room, past an upright piano laden mostly with opera scores, and lumped in among them an oversize box of Crayola crayons. The wall behind the piano is covered with posters for various operas. The posters collectively supply a snapshot of contemporary opera's greats – its greatest singers, conductors, directors and opera houses. Radvanovsky's name is nestled in among them in each poster.
I'm already mumbling my (only partially sincere) apologies for the intrusion as I sidle in the door. True, I am disrupting one of a few precious days of "down home" time for Radvanovsky before she and husband/manager Duncan Lear must hit the road again. She has just completed five Donizetti Anna Bolenas at the Met, as well as a glittering New York appearance at the annual Park Avenue Armory Gala (alongside electropop duo The Young Professionals). From here it's on to Berlin for Manon Lescaut and Tosca. And it's only October.
This season, by the time it's over, will see her achieve the almost unthinkable feat of performing Donizetti's "Three Queens" at the Met in a single season. A veritable operatic grand slam, for those of you who don't mind a sporting metaphor or two. (After all, it was just the fact of taking on Roberto Devereux, Maria Stuarda and Anna Bolena that Beverly Sills described as shortening her operatic career by at least five years.)
So, it's a season that promises to put paid, once and for all, to the lingering label of Radvanovsky as "the greatest Verdi soprano you've never heard of" that has inexplicably dogged her career.
Best news of all from a Toronto perspective is that, courtesy of Show One Productions and the Royal Conservatory, we will have the opportunity, sooner rather than later, to hear Radvanovsky in the relatively intimate context of a solo recital, December 4 at Koerner Hall, with pianist Anthony Manoli, who, perhaps more than any other musician, has helped to shape her career.
(This is why my apology as I enter the side door of her Caledon home is only partly sincere. This is the story I am here to get, and she, being a consummate musical professional in the modern sense of the word, understands that interviews like these are an integral part of the job.)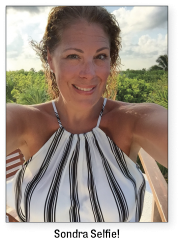 Anthony Manoli: Her professional relationship with Anthony Manoli goes back a very long time. "Twenty years!" she says. "I know; I call him my first husband!" It's a particularly interesting association in the context of the Three Queens Met marathon now under way. Because it was Manoli, as she explains, who put her on the path of going beyond Verdi - the composer with whose work her career had become inextricably linked - to Donizetti.
"He's the one who heard it" she says. "He heard it in my voice. I had no idea; this was a whole new world that opened up to me. I wasn't all that familiar with the bel canto repertoire, and we started with Lucrezia Borgia, actually; that was my first foray into the bel canto. And then the Met approached me with the Three Queens, and I said, 'I'm not so familiar with those. Let me go home and look at them first.' I knew Bolena, but Maria Stuarda: no. And Devereux: really no ... So we took some time and looked through them and I said, 'Yes, absolutely. I want to embrace it and take the challenge'."
Asked what she thinks it was Manoli heard in her voice at that moment, she becomes reflective. "You know, my voice is a very unique voice – and not saying that egotistically – but it's … voices fit into boxes, and mine doesn't really seem to fit into a conventional box. I would say that it's a large instrument, but it's not thick. It's not like a Deborah Voigt, who has a very thick voice, you know, a dramatic voice. Mine is loud, yes, and it confuses people sometimes because they think, 'Wow, it's so loud that you should sing Turandot and all the dramatic soprano roles'; but ... I [also] have that agility and I think it really fits more into that category of soprano d'agilità, like Maria Callas in many ways. And it took a long time to really find that niche for me. So I started out with more of the big, full Verdi and then we found this flexibility."
Curiously, the turning point came at a moment in her career that could have been devastating – 2003, after she had vocal cord surgery. "I think that's where it all came from because I was starting with a clean slate and I didn't have this impediment that was constantly blocking my voice. And we found this agility in the voice and thought, 'Wow! Use it!'"
I ask her about Beverly Sills' comment about the Three Queens taking five years off her performing life. "I would call her – she was probably a coloratura soprano, and I think I have a little more weight in my voice, so that the Anna Bolena, which is probably the heaviest of the three, really doesn't weigh me down, the dramatic demands of that role. Whereas I think that probably weighed her down a lot. I'm sure Roberto Devereux for her was easy! Which for me is going to be probably the most challenging."
We've heard her rise to the challenge of Devereux already here, at the COC about a year and a half ago. But there will be differences this time round. "It's going to be a new production by Sir David McVicar again ... The Anna Bolena was done for Anna Netrebko, four years ago; then we go onto the Maria Stuarda that was done for Joyce DiDonato, probably about two years ago; and then mine will be the new, the last new one. And that will complete the whole cycle."
And down the road? "Well, we do have some new roles coming up. Honestly, I'm very happy singing what I'm singing now. And as long as I can keep singing the bel canto, it keeps the voice young, fresh, flexible, all of that. Mozart didn't work for me as medicine for the voice. It just didn't. So this is my medicine for the voice: the bel canto, the early Verdi. Maybe a few later Verdi works will be coming in – some bigger, more spinto roles. Maybe some Russian repertoire will be coming in. And maybe some German repertoire."
"I notice you've got some Strauss art song in your December 4 recital," I say, fishing. "Baby steps!" she replies.
"Is that a clue?" I ask, and she relents, slightly.
"It probably will be a bit of Strauss and it might be some Korngold in the mix, in the operatic repertoire, and Russian, might be some Tchaikovsky, so yeah, baby steps. You know I think I don't want to get too dramatic too soon, if I don't have to. Because I think once you go down that path, there's no turning back. So I think the voice, more than anything, will tell us when it's ready to do that. And I think it's starting to say, 'Why not?' I did the Four Last Songs last year, here with the Toronto Symphony, and that was a lot of fun. So ..."
In Recital: The program for her December 4 recital is a combination of arias and art song that seems to be the way these days. "Aria in recital is an odd one for me, as an audience member," I challenge. "It's like figure skating [replays] where all they show you are the triple axels - all arias without the recitative and without the build."
She has clearly thought about it. "You know, I think nowadays the whole context of recital has changed," she says. "I think the audience wants to see kind of a snapshot of who you are. My last Koerner Hall recital [Toronto Summer Music, July 31, 2014] was just that, a snapshot: I talked to the audience. I think that's what they want. They want to know who I am, not only as a singer but as a person. And I am an opera singer. I don't call myself a recitalist. So this program kind of displays who I am musically. I try to give a snapshot of where I've come from – so Rusalka is there. And La Mamma Morta is where I'm going. And I do have Chénier scheduled in the future. So to show people, kind of, this is what I do vocally. But also the language of the recital is definitely art song .. so I want to give them both, a little bit of both, but definitely more art song than aria, to kind of end it with a bit of a 'Wow!' ... Everything on this recital is music that I love. Because Renata Scotto told me, 'If you don't love it, they'll know it, so don't do it.' So everything on this, I love. And it relates to me in one way or another and when they come to the recital, they'll see how it all relates to me."
Toronto Masterclass: Along with the December 4 Koerner concert, Radvanovsky will also give a masterclass December 1 at 2pm in Walter Hall at the University of Toronto Faculty of Music. It's a side of her that we have not seen much of before, but from what she says, this is something that is sure to change. "Everywhere I go in the world, I teach masterclasses, usually for free. And I think that will be my passion once I decide to retire from this crazy world, just to keep passing it along. It's my real passion. It's passing on that knowledge that I've acquired over 20-some years of doing this trade ... passing it on to the new generation, because I felt that I was given so much information along the road, being in the Lindemann Young Artist [Development] Program, and working with the greats, with Renata Scotto, with Régine Crespin, having a close relationship with all these people, picking their brains–this is my 20th year of singing at the Metropolitan Opera. Hearing these people and passing that on: I think it's my duty and my job to help young kids because if I don't, what's going to happen to opera?
Next year, and the year after ... It's a comfortable hour and a half drive from the Four Seasons Centre for the Performing Arts at University and Queen to that country house in the Caledon Hills, with its basement home gym for the opera singer who fully understands that she is an athlete, and its upright piano covered with thumbed-through scores, marked up with Crayolas. The journey to and from the FSCPA is not one that she has made often enough for some of us, I tell her. "I know I can't ask what it is," I say. But will there be news, at the Canadian Opera Company 2015/16 launch this coming January to change that situation?
"Yes there will," she says. "About what I am doing next year. And the year after that … And the year after that. And the year after that. I will be coming back every year now."
"That's good news!" I say.
"Yes. Alexander Neef and I had a meeting and we decided that this is my home, this is where I live and I love, and I want to sing here every year. And it's a conscious decision that we made, so it's a good place for me to try out new repertoire as well …
"Well, that was true of your Aida and it was also true of the Devereux, so it's a good town for that."
"I think so. And not just a good town, but an amazing opera house: the hall is spectacular, the acoustics are great, everybody top to bottom is wonderful – the orchestra, the productions that they get. I'm really, really happy to be singing here."
"Right now, as you can hear, I've been talking and singing a lot this last week. It takes a toll on you and you have to really be very regimented in what we do. And some days you live like a nun and you don't go out and see your friends, because, well, it's our job. But I signed up for it, and all of this – doing interviews – nowadays is all part of it. Hosting – I'm going to be hosting the Live from the Met, the Manon Lescaut which I love to do, it's really a lot of fun; you get to put another hat on but it's a lot of talking, a lot of energy for a whole day.
So that's why we come home and refresh and reboot the whole computer system and stay in our pyjamas and let the phone ring …"
David Perlman can be reached at publisher@thewholenote.com