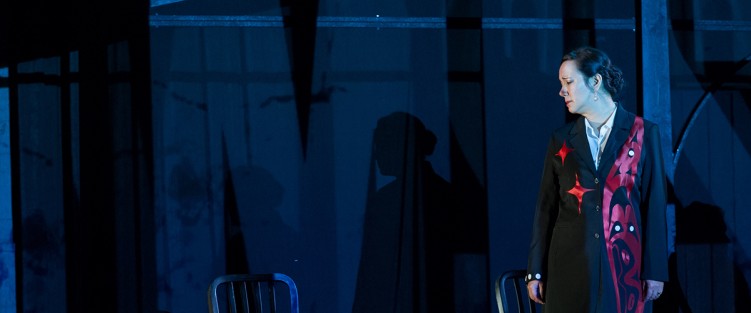 This past September 20, soprano Melody Courage posted the following on Facebook:
What an incredible evening last night! It was such an honour to perform the world premiere of Ian Cusson's beautiful aria 'Dodo, mon tout petit' with Alexander Shelley. Ian was commissioned by the Canadian Opera Company and National Arts Centre Orchestra to replace the opening aria in Act 3 of the opera Louis Riel. It will forever be inserted in the opera, taking the place of the original aria which used a sacred Nisga'a melody without permission. It was a monumental evening in this time of reconciliation, and I am so honoured I was asked to sing! … I was proud to share this moment with, not only the incredibly gifted Métis composer Ian Cusson, but my colleague Marion Newman who gave a beautiful performance of Barbara Croall's Zasakwaa: There is a Heavy Frost. Marion, your passion and voice within the indigenous community continues to inspire me! I can't wait to see where the future takes us!
The "incredible evening" she was referencing was a concert, on September 19, at the National Arts Centre in Ottawa, of the NAC Orchestra, and it serves as a useful narrative starting point for this story, which will, eventually, journey towards another significant evening, November 26, and repeated November 27, at Heliconian Hall, titled An Evening with Marion Newman. It will explore, in words and music, the question "What is classical Indigenous Music?" with the musical participation of Newman herself, mezzo-soprano Rebecca Cuddy, baritone Evan Korbut, and pianist Gordon Gerrard, with music by composers Ian Cusson, Barbara Croall and others.
Some of these participants were involved in the September 19 Ottawa concert, some not. All will be people whose artistic lives have intersected significantly with Newman's. Some, but not all, are of Indigenous background. All have significant classical credentials. And all are committed participants in an emerging nationwide conversation about the ways classical music can and must move away from a model in which Indigenous song and storytelling have been up for grabs by non-Indigenous composers, artists and academics, at the same time as the Indigenous custodians of the words and works in question were forbidden to utter them.
En route from Ottawa in September to Yorkville in November, we must first detour to the West Coast, which is where I caught up, by phone, with Marion Newman in Victoria, BC, in late October, where she found half an hour to chat, very early in the morning of her first day off, halfway through a two-opera engagement with Pacific Opera Victoria (POV).
The first of the two productions, Puccini's Il trittico, was already up and running. It's better known by the names of its one-acter constituent parts: Il tabarro (The Cloak), Suor Angelica (Sister Angelica), and Gianni Schicchi. They are seldom performed together this way, but when they are, they pack a cumulative punch, gaining perspective by congruity. Newman's role in Il triticco is in Suor Angelica, where she plays two rather forbidding roles: The Mistress of the Novices and the Abbess, in this tragic tale of a noblewoman banished to a convent for bearing a son out of wedlock.
The second of the two POV productions, Missing, just going into rehearsal as we spoke, is a piece that Newman has been involved with since its inception. It will run November 1 and 2 in Victoria, then, to Newman's delight, travel to Regina Performing Arts Centre, November 8 and 9, and finally on to Prince George, BC, November 15, 16 and 17, on the Highway of Tears that, along with Vancouver's Downtown East Side (DTES), is this searing work's primary setting. Missing was created "to give voice to the story of Canada's missing and murdered aboriginal women and girls, and to show that each and every one of these missing people is honoured." It premiered on November 1 2017 during Vancouver's DTES Heart of the City Festival, before an invited audience of families, friends and the DTES community of the missing. This was followed by runs of five performances each at Vancouver City Opera and POV. Newman reprises her original role in this run.
A review of the first run in Vancouver Magazine stated that Missing "lays the foundation for a bridge between two cultural solitudes that must work together ... to give birth to a new Canada." And Opera Canada called it "an important piece of theatre that builds over its short 80 minutes to a shatteringly emotional conclusion... [it] is something every Canadian should see."
It also offers, in the way it was created, some clues to how to build that bridge between solitudes. One example: Marie Clements, who is Métis-Dene, fully developed the libretto prior to the selection of a composer; the composer selected, Brian Current, was one of four composers asked to set a portion of it, with their settings sung before a jury who did not know their identities.
For Marion Newman, the fact that Missing is going to Regina is a source of great satisfaction, because of her relationship with Gordon Gerrard, music director of the Regina Symphony Orchestra, who will be the pianist for Newman's Heliconian Hall November concerts. As she explains:
"Gordon was really key in bringing Missing to Regina; he wanted it two years ago. He was very determined. This is very much with the support of the Indigenous advisory council there, which I'm proud to be a part of. He has a board member who's an Indigenous woman from Regina and he asked her if she thought it would be possible to have an Indigenous advisory council from all walks of life in Regina, and she thought that was a great idea, to help guide the RSO towards being more involved in telling Indigenous stories in music and community – really leading the way in terms of symphonies engaging the people on whose lands they exist."
A recent manifestation of Gerrard's commitment to meaningful collaboration was his role in the March 2019 mounting of the new opera Riel: Heart of the North by Métis librettist Suzanne Steele and composer Neil Weisensel (in which Newman, along with mezzo-soprano Rebecca Cuddy, who will be at the Heliconian with Newman, both had roles). But according to Newman, Gerrard's commitment goes back further than that.
"Well before Riel, going back to the beginning of his tenure … the first big thing we did was a festival for the symphony not part of the regular season, focused on social change and community. The first one was about truth and reconciliation and they partnered with the Art Gallery of Regina to make that happen, to create a unique space. Almost all the content was Indigenous performances in both dance and music. This coming year it's about LGBTQ themes, planning for a different focus each year – related to people who don't normally get a voice at the symphony – and to how to bring the community to the symphony, and the symphony to the community.
"He has been there when things got awkward and people stuck their foot in their mouth about Indigenous people with me right there, watching how that affected me and others. So bringing Missing there is a no-brainer … and so is including him in a concert that is about Indigenous classical music. Besides, he is a wonderful pianist as well as conductor; so many of my ideas have grown out of conversations we have. I really want him to be part of this."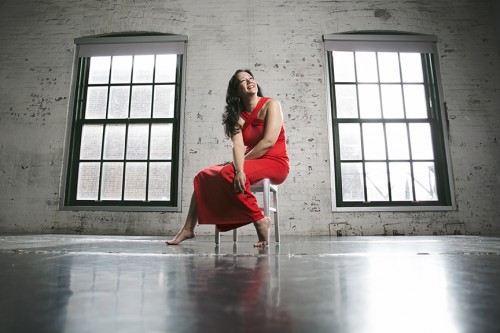 Digging down into some of Newman's other recent roles, the connections and bonds between her and the other November 26 Heliconian participants becomes clearer. For example, both Evan Korbut and Rebecca Cuddy were in Tapestry Opera's production of Dean Bury/Yvette Nolan's Shanawdithit in which Newman, as seen on our cover, played the title role.
"We keep meeting up here and there, and Rebecca and I have become very good friends as well as colleagues and I'm always delighted to work with her. I think she's a really smart and interesting artist – she's very young but very grounded and centred and learning very quickly how to speak up when that's what's needed in a great way. She's definitely that next generation who are going to do incredible things, and so it was an easy one to want to have her on board. And Evan … Evan has a beautiful voice – he's from the Garden River First Nations in Ontario. And I think … he could sing anything – it doesn't need to be Indigenous music but I think that he does have an important voice there, and I really want to let him to know he is welcome in that place and I hope one day he is also helping lead where we're all going – where there is truth in music, bringing our culture forward."
In its mushiest sense, the word "confluence" is a bit like the word "synergy," descriptive of any old kind of coming together – good for grant applications and things like that, but not particularly helpful as to how to go about it. But its narrower meaning is both intriguing and instructive: namely the junction of two equivalent rivers: each strengthened by the other as they continue, downstream. True confluence means neither accepting or demanding tributary status of the other.
The Heliconian event itself is a collaborative work in progress. "Evan and Rebecca are part of developing the plan. We need to make sure it's not too wordy, but still offer some context … a bit like introducing songs like at a potlatch or powwow, you talk about the permission granted to perform a work, about who you need to be naming. In ceremony there is speaking and music, so seeing this as a ceremony of sorts makes sense. We'll be singing in Gitxsan and Odawa and a little bit of Kwak'wala. It's an amazing opportunity to sing those languages back into the air. And we are drawing from repertoire I've been involved in over the years, that come with really good feelings – ones where collaborations worked beautifully. Some of it is new for Rebecca and Evan, but they are really cool at saying yes, this is an opportunity."
There's nothing abstract about Newman's personal understanding of what true confluence entails: "I have understood this idea of Indigenous classical music my whole life. At five I was already steeped in the cultures of both sides of my family. There's a picture of me wearing my kilt … and my moccasins and my dad's toque, with a pair of wooden spoons crossed on the floor, and I'm doing a highland dance. For my parents it was such a snapshot of how I was being raised, living all of my cultures. What it was like to be able to just be everything without anyone questioning. I began piano lessons – Suzuki – and right away did my own composing, like Kinanu, my lullaby, in its first iteration. I found my worlds could meld organically. Now it's about getting other people to understand, and embrace, the possibilities."
David Perlman can be reached at publisher@thewholenote.com