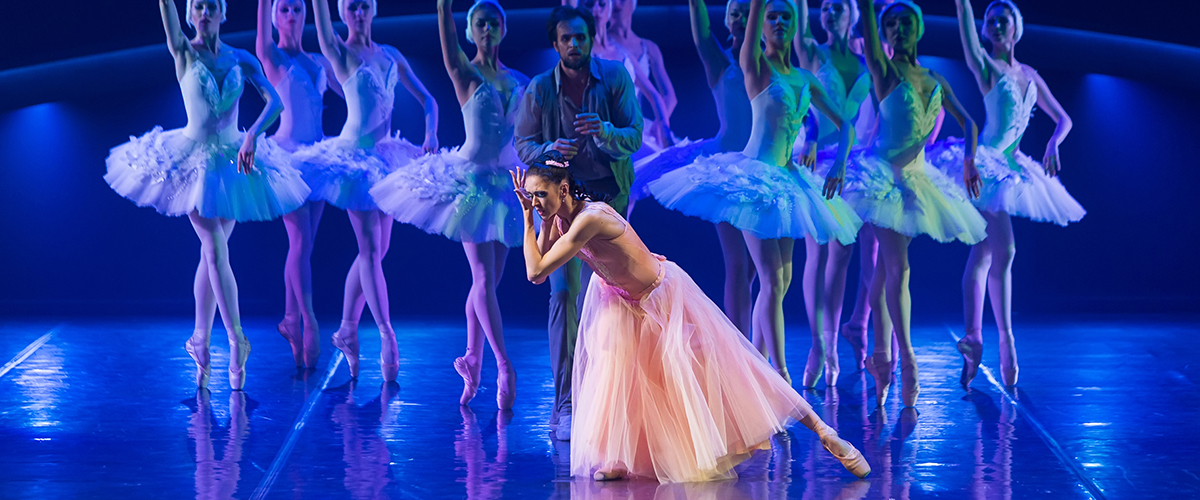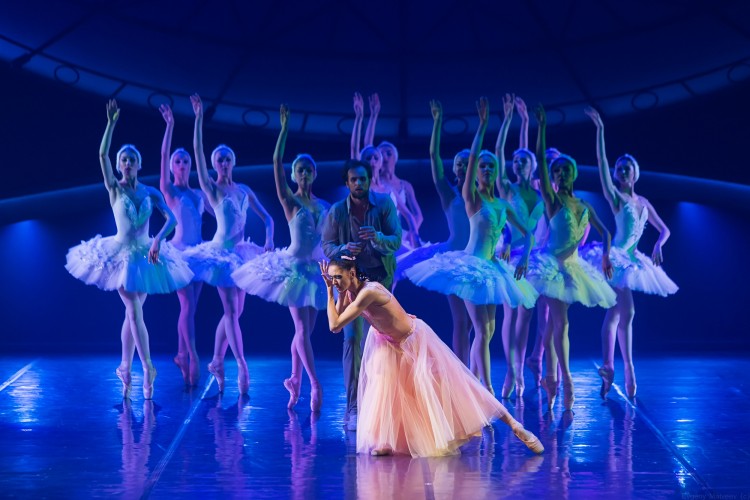 Good ballet is a feast for the senses, whether classical or contemporary in style. Music, movement and design create a symbolic display or depict character and story, with dancers moving through space delineated by the choreographer's specific interweaving of physical steps and musical phrases, offset by the physical design of set, costumes and lighting. But conveying inner stories is not typically the art form's long suite.
Having no words is usually an integral part of the definition of ballet; yet, recently, choreographers have been getting closer to finding a way to articulate thoughts and feelings that demand words as their medium of expression. Balletic adaptations of Shakespeare's later, more complex plays are a case in point. Kevin O'Day's Hamlet is extraordinarily effective at communicating Hamlet's intellectual and spiritual torment. Christopher Wheeldon's The Winter's Tale is magical in how clearly the complexity of Leontes' jealousy is conveyed.
The Eifman Ballet of St. Petersburg, coming to Toronto this month, has become internationally renowned for full-length ballets of great psychological depth; ballets that require not only a choreographer able to meld music and movement in ways that will invoke a powerful, detailed response in audiences, but also dancers able to embody his creations. Around the world, audiences have responded with great applause dubbing the company "unique" in their approach.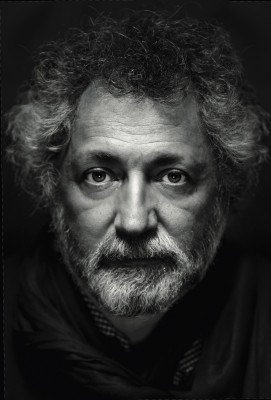 This week I had the exciting opportunity to speak with Boris Eifman, the founding artistic director and choreographer of the Eifman Ballet as the company prepares to begin a new North American tour in Toronto with Eifman's latest production, the already acclaimed: Tchaikovsky. PRO et CONTRA.
What makes the company unique, Eifman says, is that in every ballet he choreographs, they "are really trying to reflect on the interior world of the characters, showing the emotions and feelings of that inner world through the language of dance and movement." While grounded in the strong traditions of classical Russian ballet that emphasize having a clear storyline, emotional content and strong acting, they have taken those elements into the present, utilizing new contemporary choreography, modern design and cutting-edge technology. Founded by Eifman in 1977 as the Leningrad New Ballet, the company recently celebrated its 40th anniversary, and boasts a dedicated ensemble of phenomenally talented dancers who are also very skillful actors. "In fact they are unique," says their director, because "their acting and dancing skills are equal." He credits these abilities and their "wonderful personalities" for constantly inspiring him in the creative process.
When it comes to the company's individual ballets, inspiration can come from different directions, Eifman says: "When I was doing Mozart's Requiem it was the music that came first. When I did Anna Karenina, it was definitely the story and the great novel by Tolstoy." For this ballet, Tchaikovsky, PRO et CONTRA, he says, it is in equal parts the music and the story of the tormented life of the great composer. "Basically," he says, "it is like a deathbed confession. What I am trying to do is show the secret or mystery of the life of this absolutely unique human being who, in spite of leading an incredibly difficult life, was yet able to create the phenomenal music that we all love."
Interestingly, the phrase "mystery of life" also occurs in the title of an earlier Eifman ballet about the composer: Tchaikovsky:The Mystery of Life and Death. I asked him about the connection. "They are completely different works from different times," he says. "When the first production came out in 1993, it caused a great scandal because the ballet explored Tchaikovsky's homosexuality; and because of the social climate in Russia at the time it was felt that the great composer – who is of course an icon for every Russian – was being defamed. There were demonstrations, protests against the theatre, and I even received death threats."
"Now we are in a different time, when homosexuality is not unknown or taboo to the extent it was 25 years ago," he says. "The new ballet [created in 2016] Tchaikovsky. PRO et CONTRA is a completely different production that raises many different questions about Tchaikovsky's difficult life and the effect it had on his artistic creations, even while drawing on some of the same biographical facts."
He explains: "Tchaikovsky [1840-1893] was a very religious person but, of course, at that time, especially in Russia, to be a homosexual and to be religious was not supposed to be possible, as being a homosexual was considered to be one of the greatest sins. That is why all his life he was torn between God and the Devil, so much so that it was like a split in his personality; and that is a main focus of this production."
The idea of the split personality is given tangible form in the ballet. "Tchaikovsky is two characters in this production; one is Tchaikovsky the composer, and the other is his alter ego. One is always trying to move up to meet God, and the other trying to move down to meet the Devil."
Watching the official trailers for the ballet on YouTube, one can see that concept being echoed literally in the choreography; Tchaikovsky and his double usually move vertically, often one lifting or lowering the other, while the rest of the company swirls around them dancing on the horizontal plane, enacting scenarios from Tchaikovsky's life, or fantastic visions where his real life and artistic creations intertwine.
This led to one of my big questions for the choreographer. Given that Tchaikovsky composed some of the world's most dearly loved ballet scores for works that are considered to be archetypal classical ballets, most notably Swan Lake, The Nutcracker and Sleeping Beauty, I wondered if we would hear any of this music in the new ballet, or see any images from or snippets of the original Petipa choreography woven into the new story.
I was surprised by his answer: the music from the ballet scores is not used at all. While all written by Tchaikovsky, the music is taken from six different symphonic works (including Symphony No.5 in E Minor and the Serenade for Strings in C Major). On the other hand, images reminiscent of Tchaikovsky's ballets Swan Lake and The Nutcracker, and his operas Eugene Onegin and The Queen of Spades are incorporated into the all-new choreography. "The main focus is to find out and understand what provoked the particular pieces that we all know by heart and think we understand. What was behind these creations? Why did he create these and not something different?"
(For those who don't want to know, beware! There are spoilers coming up.)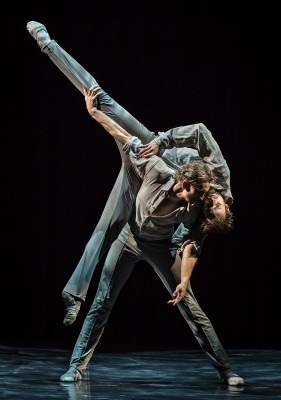 In what appears to be a long vision of his life flashing before his eyes, Tchaikovsky's Double merges into von Rothbart, Drosselmeyer and Onegin. Visions of his disastrous marriage to his student Antonina Milyukova (who is said to have reminded him of Tatiana in Onegin ) overlap with images of swans from Swan Lake. At one point, the stage is suddenly filled by a swarm of mice seemingly escaped from The Nutcracker. At another, a table is surrounded by ferocious card players from The Queen of Spades, and Tchaikovsky's unloved patroness Nadezhda von Meck appears as his nemesis in the guise of Carabosse, the evil fairy, from Sleeping Beauty.
In many ways this ballet could be viewed as the culmination of Eifman's lifelong admiration for Tchaikovsky's brilliant music, even though he has created six previous ballets using various music by the composer including The Idiot (1980), Tchaikovsky: The Mystery of Life and Death (1993), Red Giselle (1997), Musagete (2004), Anna Karenina (2005), and Onegin (2009). "What is it about the composer's music that you respond so strongly to?" I asked. "The emotional quality of the music is important" he says, "but most of all the music is very plastic (tangible), very theatrical; primarily it is the music's strong dramatic energy that touches me the most and provokes me to create new works." As for calling it a "culmination" he sounds a cautionary note, joking that he "has a lot of work to do as there is still a lot of music to be used."
I ask if he has found that audiences in Canada or North America respond differently to his ballets than audiences at home in Russia. "The audience reaction is very, very similar," he says. "I believe there are a lot of people here who know and understand ballet; and they give the company great feedback, so that we are always very happy to come and bring our new productions."
Tchaikovsky. PRO et CONTRA plays at Toronto's Sony Centre for three performances only, May 9 to 11 at 8pm, with pre-show talks by dance writer Deirdre Kelly before each performance at 7pm.
Jennifer Parr is a Toronto-based director, dramaturge, fight director, and acting coach, brought up from a young age on a rich mix of musicals, Shakespeare, and new Canadian plays.