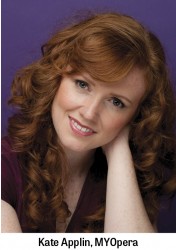 The classical music world's relationship with youth has definitely seen better days. But it has also seen worse. In recent years, performers, presenters and concertgoers have worked hard at debunking the myth, resilient to this day, that classical music is only for those much older and far richer than your average music lover. There are fatal misconceptions about the type of person you have to be to listen to classical music; for some, white hair and deep pockets are the necessary prerequisites for admission into the genre's inner circle. And with so many musical opportunities out there, no wonder so many younger people eschew the idea of becoming interested in a music genre that has only ever seemed to belong to the generation of their grandparents.
Opera is no exception. It can require a large cast, orchestra and production team to mount a show of traditional operatic proportions, which means that expenses can run high. So high, in fact, that down the line it means sometimes catering to the crowds who can afford to pay. It all gives the whole genre an aura of lavishness and grandeur that it only sometimes deserves.
Nothing, however, is so one-sided—and the tide is turning. In recent years, a number of smaller opera companies have cropped up in the Toronto area alone that are doing innovative work with fewer resources than might be expected. And often, that innovation goes hand-in-hand with a redirection towards more diverse opera audiences—proving that opera has the ability to go places that those used to the grand stage may not have imagined.
Metro Youth Opera (MYOpera) is one of those young companies. It was founded in 2010 by Toronto-born soprano Kate Applin (her sister Stephanie, who also sings, works as general manager of the company). MYOpera's mandate involves giving emerging artists and performers the opportunity to get some meaty professional experience without having to pay the tuition of an expensive school or summer program.
"I had done my undergraduate degree and a diploma both in voice and opera performance," says Kate, "and then I was back in Toronto and didn't really know what to do. I was done with school and I wasn't pursuing a master's just yet, because I knew that I needed time to train and work on technique, as many young singers have to do. For a young performer, there are performing experiences in the summertime where you can pay to sing in summer programs—and they're very expensive, but you learn a lot and you make really fantastic connections—and then during the year you're in school. So I didn't really understand what the process was for a singer who was out of school but still looking for performing experience on a real stage, without spending a lot of money. I realized that this was a gap and that I probably wasn't the only person in that position, so I started Metro Youth Opera to help create those performing opportunities."
As a company that focuses specifically on the development of young professionals, MYOpera's programming fits into an interesting niche in the operatic world. It has to have a small and varied cast; be challenging to sing, but not beyond the vocal capacity of a younger singer; and it has to cater to the smaller stages and audiences interested in less traditional versions of productions. With the company now in its fifth year, Metro Youth Opera alumni have moved on to various young artist programs and other smaller companies across the continent. Hearing about their successes, and about the interest in opera from people of all backgrounds that Kate Applin and her team have seen, provides a peek into who opera's next generation of performers will be, and the places—operatic and otherwise—that they will have come from.
Despite the bleak future that some have predicted for the operatic world, both Applin sisters have faith in what the future holds—even if that future looks a little different than today's traditional operagoing experience. Says Kate: "The stories are what make opera so accessible, generation after generation, whether they're coming-of-age stories or love stories ... there are central themes that exist in our lives as they are right now. It's just a matter of finding the right audiences and engaging them."
Kate continues: "Certainly there are some audiences that expect that their experience with opera will be going to opera houses and seeing that very traditional idea of what an opera can be, with a full orchestra, huge sets and costumes, and thousands of people in the theatre. And while that certainly is one version of opera and there is still a desire and a need for that in this world, this more scaled-back and stripped-down version of opera that we're seeing now, especially in Toronto, has some innovative ideas ... It's about recognizing that these stories are stories that can be told by anyone, in any kind of atmosphere. They can be told by emerging artists in an intimate 120-seat theatre where you're 20 feet away from them, just as well as they would be performed in a 3000-seat theatre. That's something that MY Opera offers, ... the immediacy for the audience for their interaction with the show ... you're right there. You don't need opera glasses to see what the singers are feeling."
And while the future of opera might look a little different than the posh reputation it has come to have, Stephanie Applin clarifies that a more scaled-back and stripped-down future might actually bring the genre back to its more democratic roots. "Opera sort of became something very elitist where it had once been a very popular art form," she says. "If you look at 19th-century Italy, it was the music of the people. There were political undertones to Verdi's work … it has such a history of being an art form that is very democratic. There seems to be more of a focus now generally to try to push that accessibility of opera, and I hope we do our part in that."
Metro Youth Opera's 2014/15 production is a take on Hector Berlioz's Béatrice & Bénédict, and runs at Daniels Spectrum from April 24 to 26.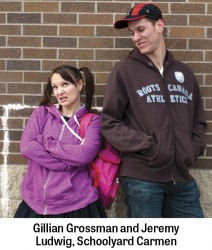 Shoestring Opera: While Metro Youth Opera has worked to bridge the gap between amateur performers and their professional futures, another new company in Toronto has been bringing opera out of the theatre—and into the schoolyard. Shoestring Opera is a recent Toronto initiative, creating adaptations of famous operas to present in local schools.
We spoke with Wayne Strongman, who is now working with Shoestring after his tenure as founding artistic director of Tapestry Opera, about what it's like to perform operatic classics for children in grades K to 8. "The children were rapt," he says, fresh from a workshop performance of Hansel and Gretel for 200 elementary school children. "For all ages, the impact of the sung human voice is still the most overwhelming—it goes right to the centre of most people."
Shoestring's mandate, which is one part educational and one part about creating innovative adaptations of the classics, is a complex one to realize. "What's so interesting about this little company is that they're adapting the structure of opera to where we are now in North America," explains Strongman. "They've done a contemporary Magic Flute, they also do it in a bilingual way, and they've even adapted the story of Carmen to being about being an immigrant in a new school."
When asked about why these kid-friendly re-interpretations matter, Strongman continues: "Why does 19th-century, or early 20th-century, opera continue to exist? It's the tunes. And they're a part of our society. It's cross-cultural, cross-generational. If you hear the Toreador song you know that you know it. You don't necessarily know it from Carmen. But there's an infiltration in our culture of these wonderful tunes. And I think, what better way for children to learn than when the stories are about children, but the music is attached to the emotional state that they're in. The stories and tunes are cutting right at the core of what opera is, and why it exists."
The bravery of adapting these classics to resonate with new audiences living in different times is, according to Strongman, characteristic of this particular time in our city. "When I started doing this, you couldn't pay people to cross the street to see something called 'contemporary opera.' Opera had a lot of baggage, and the false sense that you needed to have money and that you needed to dress up. Now, there has been a breaking out of the boundaries of the hallowed halls—of the reverence—and I think that's so healthy. For these kids, opera is a learning tool—but beyond that, it has lasting reverberations."
Shoestring Opera's current production of Bizet's Carmen, called The Schoolyard Carmen, is onstage at the Solar Stage Children's Theatre on April 12.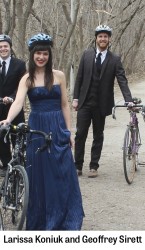 Bicycle Opera Project: Have wheels, will travel! The ability of opera to exist in many different forms is a big part of what local groups have been exploring—and one group in particular has taken operatic innovation to a very special place. The Bicycle Opera Project, led by soprano and artistic director Larissa Koniuk, is a small opera company of young professional singers and instrumentalists that tours each summer to venues across southern Ontario—by bike. With a program that features Canadian contemporary opera scenes, Koniuk and her team aim to craft an introduction to opera that is relatable and relevant.
"The very first opera I ever saw was Wagner at the COC," says Geoffrey Sirett, the project's co-producer and resident baritone. "So, not exactly an easy initiation into the genre. That was a very memorable experience—but now a part of my passion is building something that's a bit more accessible and can introduce people to an art form that I'm very passionate about, and that I think has a lot to offer a younger demographic."
That accessibility is key to the Bicycle Opera Project's mandate, and has a far-reaching impact on the works they choose to program—including the language in which they sing. "A big alienating factor of opera is that audiences here don't usually speak Italian, or German, or French, usually," explains Sirett. "Being connected with repertoire can be a little more difficult. So the fact that we're singing in the vernacular with immediate intelligibility creates a different environment. There's a different way of listening to music when you're able to absorb the words aurally, instead of reading them on surtitles. You notice that an audience is leaning in. There's a heightened level of interest and focus when the words are in your own language."
So far, it seems to be working. Now in its fourth year, the company has been involved with numerous summer music festivals and local venues. Upcoming are collaborations with the RCM's 21C Festival in late May and with a number of presenters in Nova Scotia and Ontario. For Koniuk, the types of audiences that the project attracts, and the feedback they provide, is a big part of what makes her think that this approach to contemporary opera is one with a viable future.
"I'm really proud of the diversity of our audiences," Koniuk says. "We attract members of the cycling community who have certainly never seen contemporary opera, and maybe have never even been to a live classical concert. We also attract younger people who are part of the larger arts community and also longstanding opera fans who possibly have never given contemporary music a chance before."
For Koniuk, helping those audiences give opera a chance is a central pillar of the company's work. By challenging those common misconceptions about the necessary grandeur of opera, Koniuk hopes to open up listeners to what the genre has to offer.
"I think that we challenge the notion of who an opera singer is," she says. "We show people that opera singers aren't this elite group of people who are inaccessible, singing in a language that people don't understand. Rather, we're regular folks who like getting on our bikes and powering ourselves from one venue to the next. We get dirty, we know how to change a flat tire, we get splashed in the mud, we get caught in the rain—and we go to sleep and wake up the next day, put on our costumes and put on a great show."
The Bicycle Opera Project will perform a number of contemporary opera scenes on May 21, as part of the RCM's 21C Festival (which runs May 20 to 24 this year). Keep an eye out for the details of their 2015 tour, which will include venues in Eastern Canada as well as a number of dates in southern Ontario this summer.
So, what is the takeaway from these stories, and those of other local companies that are working to realize a new vision of opera as a genre in renewal?
For one thing, it shows that opera can be many things—grand, intimate, comforting, shocking, and that grand doesn't necessarily mean the same as big. For another thing, that opera can also be for many different kinds of people and be offered to audiences in many different forms. And that the story of how opera continually remakes itself for the times is as moving and inspiring as the stories opera tells. Misconceptions about what the opera experience can and cannot be are beginning to loosen their grip. The stories that opera tells are timeless; and these new storytellers are more than ready to take them to fresh ears and eyes.
Sara Constant is The WholeNote's social media editor. She can be contacted at editorial@thewholenote.com.