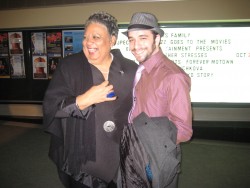 Toronto`s Jazz Performance and Education Centre (JPEC) is a registered charity that focuses on jazz education, cultivating new audiences for the music as well as mentoring young musicians. Inspired in part by Jazz at Lincoln Centre in New York City, JPEC aims to establish a first-class, multi-purpose facility in Toronto to feature performances, educational programming, recording facilities and a Hall of Fame and Archives to preserve Canada`s jazz heritage and tradition.
Last night at the Toronto Centre for the Arts, JPEC presented its third annual gala, ``Jazz at the Movies,`` featuring a wealth of local talent including four vocalists which charmed the audience in their own sweet way. Heather Bambrick entertained with her trademark warmth, wit and class, singing and emceeing in style. Crooner Denzal Sinclaire`s delicious, effortlessly smooth delivery evoked the late Nat King Cole, while newcomer Francois Mulder won the crowd over with his attractive voice. If one performer stood out, it was without a doubt Jackie Richardson, whose impeccable brand of musical storytelling is truly an experience to behold. This woman`s on-stage magic is not a dish, but a full-course meal: an almighty voice that wows, a great big heart that feels, impeccable timing that cooks, and a huge pair of eyes that light the room on fire. Sprinkle these elements with Richardson`s humility and grace and you have a true national treasure.
All four vocalists were accompanied by the JPEC Tentet which featured ten highly regarded, award-winning jazz musicians, all of whom also serve as educators: Shirantha Beddage, baritone saxophone; Mark Promane, alto saxophone and flute; Mike Murley, tenor saxophone; William Carn, trombone; Ted Quinlan, guitar; Brian Dickinson, piano; Pat Collins, bass; Terry Clarke, drums; Don Thompson, vibes; and Denny Christianson, trumpet and musical director.
There was a welcome balance of vocal and instrumental jazz in the evening`s program; the tentet played several instrumental arrangements including a memorable version of the famous Duke Ellington/Peggy Lee collaboration, ``I`m Gonna Go Fishin`,`` while the Mario Romano Quartet dazzled with a short set that included a poignant ballad reading of ``Someday My Prince Will Come`` starring the legendary Pat LaBarbera.
All in all, this was a highly entertaining event for a very ambitious and admirable endeavour. Good to see that it was well-attended, and even though the event didn`t sell out, it seemed that a lot of the audience learned of the organization`s initiatives by attending this gala. The next Jazz Performance and Education Centre event takes place at the George Weston Recital Hall on Sunday November 20 at 7:30pm, when West African jazz guitarist Lionel Loueke`s trio takes the stage. If you`ve never heard of him, check out this video: http://www.youtube.com/watch?v=KXzgWTZ2NW0 and here`s hoping to see you at the concert!