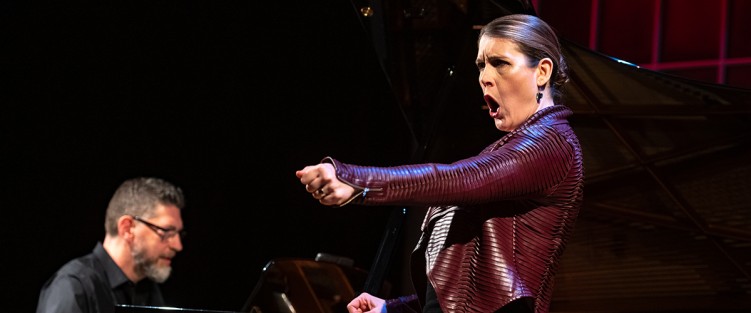 Editor's note: Since the concert covered here, where a reduced team of Tapestry artists and production staff put together a livestream performance, more stringent physical distancing precautions have been recommended by community and government groups. We currently do not recommend in-person gatherings of any size with anyone outside of your household. (updated 26/03/2020).
As many performing arts organisations around the world have had to make the difficult decisions to cancel their activities amidst the escalation of the novel coronavirus COVID-19 pandemic, Tapestry Opera cancelled both its emerging artists showcase, Songbook X, and its three-day emerging artist masterclass, New Opera 101. However, what could have been a sad footnote in the company's year-end debrief, will instead possibly become a road map to navigate the challenging times ahead for artistic organisations. Tapestry Opera's artistic and general director, Michael Hidetoshi Mori, was able to transform Songbook X into Tapestry's first livestreamed concert.
On Saturday, March 21 at 8pm EST, over 200 listeners joined Tapestry on Youtube for a free virtual recital with mezzo-soprano Krisztina Szabó and collaborative pianist Christopher Foley. With a reduced production team inside the Tapestry studios, and with only one week of preparation time, the company treated its virtual audience to a night of carefully curated music, mostly Canadian, that ranged from art songs, oratorio and opera arias, "opera briefs" compositions, and solo piano works (for a complete list of works, click here).
That the recital itself was an absolute success is no surprise; Szabó and Foley are consummate professionals who are both meticulous on details and generous on emotions. More pressing for me were the technical considerations related to the presentation of a virtual recital: Will there be a program with notes I can follow? What will the sound quality be like? Will the performers be able to engage with a virtual audience? How will I emotionally connect with the performance? Was there a mock recital to test all this out? Tuning in to the livestream recital answered most of those questions.
Each selection was briefly introduced by Michael Mori. To my delight, the Tapestry online moderator space was used as a tool to inform the audience and invite further research: the moderator not only uploaded links and repertoire information, but also answered repertoire questions from the virtual audience. As for the sound, although there was a momentary glitch, it was quickly rectified. The performers, perhaps not aware of the technical difficulty, or simply well trained in 'the show must go on' maxim, continued until they were interrupted and asked to start over.
Though I had initially envisioned a possible emotional challenge for performers and audience to connect, this did not occur. What did transpire, however, was an element typically not considered in live performances: the very obvious fact that the audience is not in the room. And by focusing my initial concerns on the individual audience member's experience, I had missed a most vital component of the recital: the collective virtual audience. When the concert began and the sound did not work, the live chat section became overactive with a rapid succession of comments such as "no audio," "no sound," and "please start again" (the Tapestry Opera moderator was appropriately reassuring, although one wonders if there was not a certain amount of nervousness in the studio).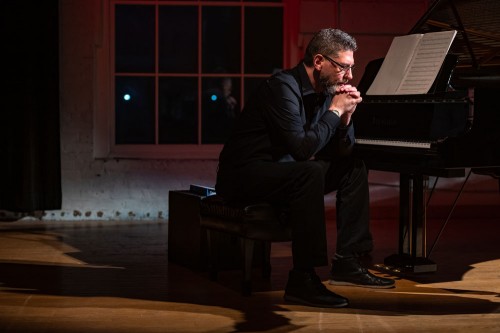 For the audience to have such an impactful and immediate voice in the middle of a concert is unprecedented. On the one hand, and this was the case here, users were active, eager, complimentary, and engaged with one another (composers Dean Burry and John Estacio said hello). This particular situation is a positive one within a fairly tight-knit community. But what happens when that is not the case? And while the information shared by the moderator is valuable, is the constant flow too distracting? Does it take away from the performance? When audience members 'converse' during the performance or share their activities (dancing while listening, joking about unwrapping a candy, eating or drinking wine), does this compromise the quality of our experience? Are there new social boundaries or etiquettes that have to be developed to ensure the success of future livestreaming concerts?
At the end of the recital, Szabó and Foley, probably unaware of the enormous amount of praise they were receiving, emotionally addressed the audience to thank them. When Christopher Foley spoke of the uncertain times artists are facing, he suggested that companies throughout the world will most likely have to adapt and find new music models in order to survive. With the Songbook X Livestream, Tapestry has potentially tapped into one such model of digital musicking. As we rethink our current frameworks for musical performances and engage in collective experiences that are meant to bring communities together, it is nice to know that in one click, however isolated we may feel, we can momentarily be uplifted by truly inspiring performances.
Tapestry Opera presented a livestream recital edition of Songbook X on Saturday, March 21 at 8pm EST. The video is viewable here. To donate to Tapestry Opera, visit their website here.
Sophie Bisson is a PhD candidate in musicology at York University and an opera singer who is passionate about Canadian repertoire. Her doctoral research focuses on Canadian opera.