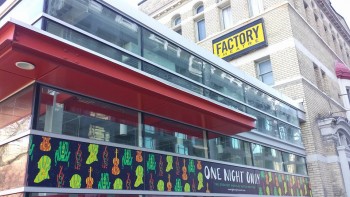 In one sense (and lucky for all of us), One Night Only isn't one night only – its sold-out official opening is tonight (Thurs Jan 28) on the mainstage at the Factory Theatre (Bathurst and Adelaide) and it runs Tuesday to Sunday till February 14. But every one of those performances will be unrepeatable, which makes it a laughter-filled thrill ride unlike anything I've seen.
The show's ingredients are enticing enough: a five-piece stage band combo with serious chops (under the musical direction of keyboardist Jordan Armstrong); six of the city's finest improvisers, most of them Second City alumns; a couple of canny pit singers; a spotlight operator with nerves of steel; a motley array of props and costume bits (flowers, police hats, scarves, ribbons, mustaches ...); a few chairs, a table or two.
A well-rehearsed opening ensemble musical number gets things going, showing off the cast's beautifully forged triple-threat credentials, and setting what feel like impossibly high musical standards for the rest of the evening. But what follows is different, every time the show is presented.
The formula will be familiar to those of you who are followers of improvisational comedy, but perhaps less so to the other audiences I hope this show will attract. Three audience members are trapped in the glare of the follow spot, one after the other, and asked to offer up suggestions for the evening's plot – a technique known in the improv trade as "pimping the audience."
At last night's preview, the asks were "an exciting Toronto location," a "recurring nightmare" and "something that really intrigues you." The reponses were St. Lawrence Market, failed high school exams and drug cartels. Without further ceremony we were off on a mesmerizing two-hour romp (including 15-minute intermission) that wove together the lives of a paperless, lame, immigrant flower seller (Ron Pederson), a mustachioed and skirted police chief (Jan Caruana), along with his burly, butchy sidekick (Carly Heffernan) and flower-seller-besotted daughter (Ashley Botting), with a couple of Etobicoke pot-dealing hosers (Alex Tindal and Reid Janisse) seeking greener pastures completing the cast of characters who came to life before our eyes.
It's not the formula that is unique – genre-based scene play of this type, from the sophomoric to the super skillful, with and without music, takes place in venues like Comedy Club, Bad Dog, Second City and various classes and schools, formal and informal, around the city, all the time. What is different about this version of it, is the ensemble artistry on display. And it's that, more than anything else that makes me say go see this show, whether you be a classical musician or a jazzer, or a mainstream WholeNote reader who has never been to an improv show, or someone like me who needs no persuading that improv is ART in the best and liveliest sense of that all-too-often stultified word.
There's a core improv concept known, at least theoretically, even to dabblers like me. It's called "Yes, and-ing the offer ..." It means that if you walk into a scene and say to me "The parrot on your shoulder is giving me really dirty looks, Pete." then I don't block the offer by saying something like "What parrot?" or "Do I know you?" Instead, after a delicious moment of terror something falls out of my mouth like "Yes, well, what do you expect, Rita, after what you did last night?" – and bingo, the roller coaster ride is under way.
So if you are a performer who finds it hard to stray from the pre-arranged, or an audience member who thrills to those moments when well-rehearsed performers find themselves face to face with the unexpected and survive the encounter, go see this show. What you'll see is a masterclass in delighted playful fearlessness, by performers, musicians and actors alike, at the top of their collective game. You'll learn something new about ensemble work. (Oh, and you'll get to laugh your ass off.)