Sharp-eyed readers have noticed TheWholeNote banner showing up in a less than customary spot – as "presenting sponsor" of a series of public masterclasses, the first time in our fifteen years that we have done so. These particular masterclasses are part of this year's Toronto Summer Music Academy and Festival. The first of them was Friday July 23 from 3pm to 6pm– members of the Vienna Piano Trio, coaching three of the pre-formed chamber ensembles registered as students for this year's TSM.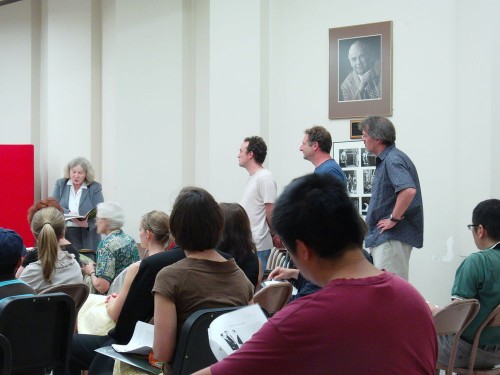 July 23, 3pm. Portrait of legendary opera director Herman Geiger Torel looks out affably over "his" room, as TSM founding artistic director Agnes Grossmann introduces, left to right,  cellist Matthias Gredler, pianist Stefan Mendl, and violinist, Wolfgang Redik   the acclaimed Vienna Piano Trio.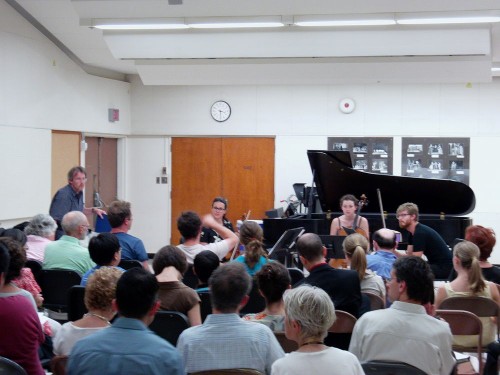 First student ensemble, The Darjeeling Trio (Ameline Chauvette-Groulx, violin; Leanna Rutt, violoncello; Peter Blake, viola) had prepared Beethoven's String trio in c, Op.9/3.  Gredler gestures, while Mendl to his immediate left, and Redik look on.



Give and take. Gredler and Mendl flank the afternoon's second ensemble, Duo Axus Mundi (Joelle Mauris, violoncello; Viva Sanchez Reinoso, piano), who had prepared Chopin, Sonata in g, Op. 65.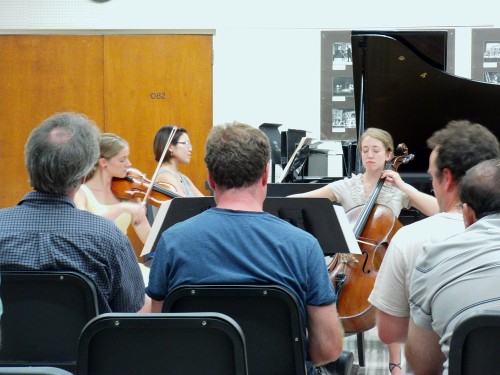 Reflections. L to R: Redik, violin; Mendl, piano; Gredler, cello, observing, L to R,  Sarah Wiebe, Meiyen Lee and Catherine Folstad (Trio Mecasa), the afternoon's final ensemble, who had prepared Beethoven's Piano Trio in E-flat M, Op. 70/2  
Occasional public masterclasses have been part of the TSM formula from the start. But it's the first time in five summers that Agnes Grossmann has agreed (somewhat cautiously it must be said)  to a series of public masterclasses like this, advertised well in advance. Not counting last Friday's with the Vienna Piano Trio, there will be five opportunities over the next 3 weeks, for truly obsessive members of the concert-going public to indulge our pleasure in this fascinating concert/classroom hybrid.  
And if Friday's first masterclass was an indicator, we die-hards have something rare and special to look forward to. What greater pleasure can there be, after all, than to sit for two or three hours on the edge of things, entirely ignored, overhearing rather than hearing, while coach and  student go over some fine point, over and over and over again?   One can literally not hear a complete movement played through, or aria sung, in two or three hours. And yet one can  come away from these experiences enlivened in the way one listens, staggered at how much detail true excellence demands, technically and emotionally.  
A few minutes after last Friday's masterclass, I had the pleasure of sitting with Redic, Gredler, and Mendl. Even with a couple of hours rehearsal looming before their dinner, they cheerfully indulged my appetite, whetted by the masterclass itself, to catch glimpses of things from the performer's point of view.  More from that conversation next time.
Next masterclass up is Matthias Goerne, Wednesday July 28 at 10am, in the Geiger Torel Room again, coaching a very interesting vocal threesome – Colin Ainsworth, Leslie-Ann Bradley, and Peter McGillivray, who will themselves present a concert of German Art Songs later in the festival (Aug 4).