This article appears in The WholeNote as part of our collaboration in the Emerging Arts Critics program.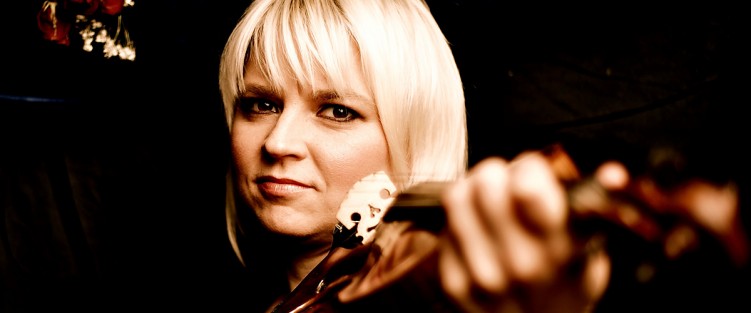 After releasing several recorded experiments on social media (including a Bach chorale sung via video call), Toronto-based Tafelmusik Baroque Orchestra plunged bravely into virtual concerts on Wednesday, May 27 with Tafelmusik at Home: Prelude, the first of five ticketed performances streamed live to YouTube from the performers' homes. Freed from conventional concert expectations, violinists Christopher Verrette and Julia Wedman and cellist Keiran Campbell exploited the digital medium to good effect by choosing an eclectic mix of early pieces written exclusively for solo violin and solo cello. Between chatty introductions and the occasional heavy-footed neighbour, this Tafelmusik subset delivered a clean yet relaxed performance of works both lively and sombre, famous and obscure, revealing each player's unique musical response to confinement.
Tafelmusik veteran Christopher Verrette opened with two Préludes by little-known English composer (and occasional clock-maker) Davis Mell, a court musician for King Charles I and II who also spent a decade under Cromwell's sober commonwealth. While occasionally outdone by flashy foreigners like German composer-violinist Thomas Baltzar, Mell "was a well-bred gentleman, and not given to excessive drinking," according to 17th-century diarist Anthony Wood. Such restraint may have endeared him to Puritan sympathizers who, in their mission to suppress the adverse side effects of sensuous music, discouraged public performances in church or at court in favour of simple domestic recitals.
How fitting, then, that listeners should hear Verrette play from his living room, when music venues have once again become forbidden spaces. The first Prélude in G minor was a slow, humourless piece, so austere as to be nearly funereal. A high, yawning wail occasionally poked through in the violin, lending a dab of emotion to the otherwise staid atmosphere. While Verrette leaned into the occasional flourishes with elegance, the piece's spare melody was more thick-stroked pencil sketch than vibrant oil – ah, how Puritan. It may have felt too bleak, considering the circumstances, had it not been answered by its cheerful friend – another Prélude in G major, which countered the first piece with bright chords and teasing tempo changes. An apt pair of works, if more notable for their historical relevance than Mell's melodic genius.
Julia Wedman then dove heart-first into Heinrich Biber's reverential Passacaglia, the conclusion of his Mystery Sonatas meditating on the lives of Christ and the Virgin Mary. This twisting, complex violin piece cycles through variations recalling the dramatic episodes of the Gospels. Wedman's sensitive playing produced shrill cries, ringing with pain and melting briefly into solemn murmurs. She anchored this with a steady ground bass, whose four descending notes produced a slow ebbing, like the footsteps of a divine procession. The following piece – the Largo and Allegro Assai movements from J.S. Bach's Sonata no. 3 in C Major – while impressive technically, lacked the unwavering intensity of the first and fell somewhat flat in the wake of Biber's hypnotic spell.
Keiran Campbell, the final performer and Q&A session host, is an American cellist who became a member of the core Tafelmusik ensemble last autumn. By happy accident, he is quarantining with a loaned cello made in 17th-century Bologna, which may have crossed paths with Giovanni Vitali, composer of the first two of Campbell's six short cello pieces. From this instrument Campbell coaxed and tamed a growling beast of sounds, at times rich and gravelly, at others smooth and clear. Campbell's light touch created an illusion of spontaneity, perfect for Giuseppe Colombi's Trompa, where quick runs mimicked gentle trumpet fanfares. Similarly, he played the Courante from J.S. Bach's Suite in G Major with the ease of a pub fiddler, shaping confident phrases which built up tension before a final fluttering trill. He's a delightful performer, and it will be exciting to see how he grows with the ensemble over the coming season.
It's rare to hear so many solo works played in one sitting outside of a practice session or solo recital, which makes this format ideal for comparing, say, the modest lines of Mell with the rumbling passion of Biber. I admit that towards the end I began to suffer mild "Zoom fatigue," missing the pulsing energy and resonance which can only be transmitted in person. Nevertheless, until large gatherings resume Tafelmusik at Home is a sophisticated salve for our dulled ears, to be enjoyed with dinner and a cool drink, a restless toddler, or any other companions more comfortable at home than at a concert hall.
Tafelmusik presented Tafelmusik at Home: Prelude on Wednesday, May 27, 2020 on YouTube.
Jane Coombs is a writer based in Toronto. She recently graduated from Cambridge and the Courtauld Institute.