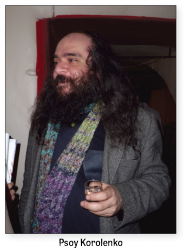 Here, patrolling The WholeNote world music beat, most months bring a consistent flow of concerts to preview. There's always too much going on in the GTA to include more than just a sampling in this column for my trusting WholeNote readers. In the extent of its exclusions, this December-January column is no exception.
However, as my deadline rushed ever closer, it initially seemed that something unusual was taking place, namely a large hole in the January World View concert listings. Just as I thought I would have to leave out the first month of 2016 entirely, an announcement surfaced for a late January concert of newly discovered Yiddish music from WWII – with a most intriguing backstory. While that concert is well into 2016 (Happy Lunar New Year, dear reader?!), it is as good a place to start as any.
Lost Yiddish Songs of the USSR: January 27, Svetlana Dvoretsky/Show One Productions present "Yiddish Glory: The Lost Songs of Life and Fate" at the Richmond Hill Centre for the Performing Arts. A mixed ensemble of outstanding Russian, Jewish and Canadian musicians premiere Yiddish songs discovered in Ukraine. Their creation, collection, banning and recent discovery tell a story of resistance and reclamation, describing a wide historical and musicological sweep.
Our compelling story begins during the turbulent late days of World War II when leading Soviet linguists and ethnomusicologists including the eminent Moisei Beregovsky collected and notated the songs of Jewish refugees, Jewish soldiers in the Red Army and Holocaust survivors in Ukraine. Their extensive collection documented these survivors' defiance of the Third Reich in song. Our narrative takes a dark turn when in 1949 the Soviet government arrested Beregovsky and his colleagues, confiscating and hiding the documents. Researchers had long considered them lost.
We pick up the story a few years ago, in the holdings of the Ukrainian National Library in Kiev. Enter Anna Shternshis, associate professor of Yiddish and Diaspora Studies at the University of Toronto. When she opened the sealed boxes she found a trove of thousands of hand-notated Yiddish songs which had lain unheard for nearly 70 years, until now.
Shternshis worked closely with Psoy Korolenko, the Russian poet, philologist, "avant-bard" singer/songwriter and renowned klezmer performer, to produce performing versions of these songs. Selections will receive their world premiere in "Yiddish Glory: The Lost Songs of Life and Fate" performed by Korolenko, the virtuoso Russian trio Loyko, plus Canadian vocalists including the JUNO Award-winning singer Sophie Milman. Accordionist extraordinaire Alexander Sevastian, award-winning trumpeter David Buchbinder and clarinetist/conductor Shalom Bard round out the international cast. A recording of this music is being produced by Shternshis and Dan Rosenberg.
Going Home Star. February 5 and 6 another musically powered story of suffering, resistance and the ultimate reassertion of personal and cultural identity is being performed, this time at the Sony Centre for the Performing Arts. The critically acclaimed ballet Going Home Star – Truth and Reconciliation has a story by Joseph Boyden, score by Christos Hatzis and choreography by Mark Godden. It explores the all-Canadian story of loss, resistance and reconciliation: that of the Indian residential school system, its survivors and their families.
The ballet's richly textured, cumulatively powerful music is not just the work of the Canadian veteran composer Hatzis, enthusiastically performed by the Winnipeg Symphony Orchestra, but also enfolds important contributions of indigenous voices whose communities have been directly and profoundly affected by the Indian residential schools and their aftermath. They include Cree actor Tina Keeper, the boundary-breaking Inuk vocalist Tanya Tagaq, who won last year's Polaris Prize, pow-wow stars Northern Cree Singers, as well as songs by Steve Wood (Mistikwaskihk Napesis).
I've had a chance to listen to the impressive, recently released 2-CD recording of Going Home Star – Truth and Reconciliation. It comes chockablock with Hatzis' signature inclusions of music in multiple vernacular music genres, as well as acoustic and electronic soundscapes diffused from the studi0-produced digital audio track, in addition to the symphonic core. I found the contribution of North American indigenous voices, however, to be the key to the work's ethical and aesthetic fabric. These voices are essential texts in the story centred on the suffering imposed on children in Canada's infamous Indian residential schools. While the narrative contains much pain, loss and suffering, the ballet ends with the possibility of personal and intercultural redemption and reconciliation. It's an important story for all of us to understand. Witnessing this production is, in my estimation, a fitting way to start a new year.
Quick Picks
Dec 1 Tanya Tagaq and her band share the stage with Owen Pallett and the guided improvising Element Choir directed by Christine Duncan, at Massey Hall.
Dec 1 The Toronto-based group Ventanas, featuring Tamar Ilana (vocals, dance) and guest Justin Gray (double bass, bass veena), presents an evening with flamenco, Balkan and Sephardic music at Lula Lounge.
Dec 2 "Roots of India, Grown in Canada" performed by the all-Canadian pop, folk and Indo-fusion group Autorickshaw at the Richard Bradshaw Amphitheatre, Four Seasons Centre for the Performing Arts.
Dec 3 University of Toronto Faculty of Music presents its World Music Ensembles including the Klezmer Ensemble, Japanese Drumming Ensemble and world music artist-in-residence Pedram Khavarzamini at Walter Hall, Edward Johnson Building.
Dec 5 "Routes of Andalucia," at Koerner Hall, features David Buchbinder, trumpet. He leads a group with divas Roula Said and Tamar Ilana plus their "crew of cross-cultural
musicians on a journey into the magic musical realm of ancient Andalucia … where Arabic, Jewish and Gypsy cultures connect."
Dec 5 The Aga Khan Museum presents the leading proponent of Indo-Afghan classical vocal music, Ustad Eltaf Hussain Sarahang.
Dec 12 The Aga Khan Museum presents "Under the Sun," a concert of "internationally-inflected" jazz performed by musicians from Palestine, Afghanistan and Toronto. Musicians include Jamey Haddad, percussion; Ali Amr, qanun; Salar Nader, tabla; Michael Ward-Bergeman, accordion and Billy Drewes, saxophone.
Dec 11, 12, 13 The Toronto Consort performs "Christmas at the Monastery of Santa Cruz" at Trinity-St. Paul's Centre in a program of villancicos and Brazilian-influenced dances found in the Monastery's archives. Žak Ozmo plays the lute and guest directs.
Dec18 Flutist Ron Korb and Celtic harpist Sharlene Wallace perform a program of Celtic and Christmas favourites, capped by original globally inflected compositions at Pickering Village United Church, Ajax. December 19 they repeat the program at the Maple Grove United Church, Oakville.
Dec 27 Gary Morgan and PanAmericana! take the Lula Lounge stage with a Latin jazz orchestra in a Christmas-themed concert. Musicians Hilario Duran, Mark Kelso, Paco Luviano, Rick Lazar and Juan Carlos Medrano are featured.
Feb 5 West coast blues and raga guitarist, singer-songwriter Harry Manx appears in the "Folk Under the Clock" series at the Market Hall Performing Arts Centre in Peterborough.
Andrew Timar is a Toronto musician and music writer. He can be contacted at worldmusic@thewholenote.com.