What Doth a Good Choral Singer Make?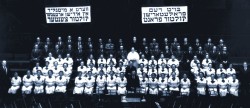 Many an eminent philosopher has pondered this question. Most have finally admitted defeat and returned to relatively safe areas of enquiry such as the nature of evil and Man's place in the universe. But how many philosophers took the time to engage in amateur choral singing? Nietzsche and Wittgenstein would have been chewed up and spat out by some of the alto sections I've seen in action.
The very nature of The WholeNote "choral canary" issue is a tribute to the multivalent nature of choral singing in this region. There are groups of all sizes, abilities and musical focuses available to join. But among all these choices, the principles of good choral work are (or at least ought to be) a constant, no matter what type of choir is involved. Here are a few observations about the choral experience and the nature of being a good choral citizen.