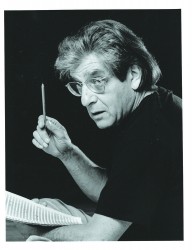 Paintings and sculptures occupy physical space. Da Vinci's Mona Lisa resides in the Louvre in perpetuity, guarded and revered, physical manifestations of "great art" in a hallowed space, ready for us to come and venerate.
Music, by contrast, is a manipulation of sound and time and lives in our minds and ears. Music is a physical experience not a physical object. Without our minds and ears to translate, it cannot exist.
Music needs to be iterated and reiterated to continue to live. The giants of the musical canon seem inviolate and firmly rooted, but even established musical giants have been as subject to trend and fashion as any other musician. Bach needed Mendelssohn to reintroduce his work to the world. Mahler's work was headed for obscurity when it was championed by musical lion Leonard Bernstein. Vivaldi's inescapable Four Seasons was actually a forgotten work at the beginning of the 20th century. Its rise in popularity corresponded with the rise of recording technology and turned a relatively obscure composer into a household name.
Because of its need to be constantly renewed, music is subject to the world's often wayward and chaotic currents of artistic fashion (as is literature, theatre and architecture). Economics, technology, trend and fashion play a greater role in shaping our tastes than we understand or will admit to.
In Canada, a young nation swamped by European and American cultural and economic influence, we are continually reminding ourselves and each other that what we create here is worthy of advocacy. Canadian musicians whose careers may not have extended past national or even regional borders need and deserve our continued interest and awareness, especially after they are no longer in a position to promote themselves.
Barnes: One such composer is Milton Barnes who had a rich and varied career centred in Southern Ontario but ranging over North America. He had fruitful associations with many musicians, ensembles and dance companies. Trained in modernist compositional techniques, he ultimately moved to a more accessible style that factored in his background as a jazz drummer, his ease with popular music and his knowledge of traditional Jewish music.
Eleven years after his death, it would be easy for Barnes' work to pass into disuse — new composers are fighting for space in a crowded local and global market and Canadian artistic history is so young it is hard to conceive of it as a tradition to be fostered, celebrated and renewed.
So it is good to see two Toronto choirs collaborating in a concert in part devoted to Barnes' music. The Jubilate Singers have consistently created unusual and inventive programs. The Jewish Folk Choir is one of Toronto's most long-running groups and has a long, varied and fascinating history of social and political engagement. It has been a staunch advocate for Jewish-Canadian music.
The two groups' collaboration is named "L'khayim: A Celebration of Jewish Music," and takes place on November 25. The concert showcases works in Yiddish, Ladino (a linguistic amalgam of Hebrew, Spanish and Aramaic influences) and Hebrew. Klezmer ensemble Shtetl Shpil are the guest instrumentalists. It will feature Barnes' lively Sefarad, a tuneful suite that he wrote in 1996 to celebrate the 3,000th anniversary of the City of Jerusalem.
Soundstreams: Contemporary composition has also needed fierce advocacy, in part because of the fierceness with which audiences have resisted it. Over the course of the 20th century, the idea of the inherent superiority of European-derived composition has broken down completely and those who desire an intellectual component to music have been able to find it in various types of world music, jazz and other areas of popular music.
To remain relevant, contemporary music groups have had to bridge gaps between the European tradition and other stylistic areas. Toronto's Soundstreams, which celebrates its 30th anniversary this year, has never wavered from its contemporary music mandate. But it has certainly expanded both its own and its audience's understanding of what contemporary music entails. Their programs are notably free of pretension and over-seriousness; their mandate to involve and inspire young musicians gives their season a sense of liveliness and fun.
As part of its anniversary celebrations, Soundstreams is hosting a concert with the Latvian Radio Choir, considered to be one of the world's top choral ensembles. A truly professional outfit, they give over 60 concerts a year. Choral aficionados definitely don't want to miss this one.
The icing on the cake: as part of its commitment to outreach and education, Soundstreams will host four choirs from Canadian universities for this concert which will allow young musicians the experience of working with the Latvian Radio Choir in a mentorship capacity. The concert includes a number of Russian and Latvian works, a piece by John Cage and music by a nice range of contemporary Canadian composers.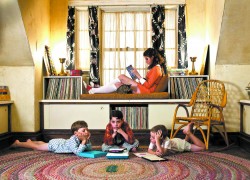 Other concerts of note
On November 3 the Hamilton Children's Choir gives a fundraising concert in support of the choir's performance at the Xinghai International Choir Championships. Please come out and support this endeavour.
On November 17 and 18 the Cantemus Singers perform an early music program that includes Charpentier's In Nativitatem Domini.
The recent Wes Anderson film Moonrise Kingdom (now available on DVD) brilliantly utilized the music of Benjamin Britten throughout, including Britten's wonderful and popular children's opera Noye's Fludde. On November 23 there is an opportunity to hear this work live, as the VIVA! Youth Singers take part in a staged version.
In a similar vein, the Elora Festival Singers perform Menotti's festive Amahl and the Night Visitors on November 25. This opera is a touching and humorous work and an excellent introduction to opera for children.
As we head into the Christmas season, many choirs gear up for seasonal concerts. Next month, there is an astonishing number of concerts taking place on December 1, too many to list effectively. Please have a look at the listings to see how many varied and interesting choices there are on that Saturday evening. 
Ben Stein is a Toronto tenor and theorbist. He can be contacted at choralscene@thewholenote.com. Visit his website at benjaminstein.ca.