Two toronto theatre companies, neither known for musical production, break new ground this month by presenting on their main stages original musicals written and composed by Canadian artists. The first show, by Soulpepper theatre, opens on May 9, and while its title may lack originality, the production certainly doesn't. An update of a "comedy with songs" that Theatre Columbus created in 1996, The Barber of Seville reunites its creators — Michael O'Brien (writer), John Millard (composer) and Leah Cherniak (director) — for a fresh look at the runaway hit that won DORA awards for outstanding musical production, score, and female performance. Needless to say, the show arrives with buzz.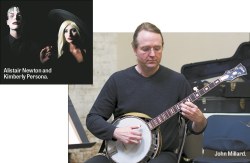 "But original?" you ask. "What about Rossini's opera?" As if to answer such a question, Michael O'Brien points out that Gioachino Rossini based The Barber of Seville on a comedy that French playwright Pierre Beaumarchais wrote in 1775, the first of his "Figaro trilogy." Well before Rossini's opera buffa premiered in 1816, Beaumarchais' play (itself an opéra comique — a mixture of spoken words and music) inspired other writers and composers (most notably Mozart) to pen variations. This type of borrowing, far from exceptional in the theatre, is common, with writers and composers using a variety of sources to create work whose originality often relies on form more than content. Certainly, this is the case with the two musicals I preview here.
As O'Brien sees it, Soulpepper's take on The Barber of Seville "combines the best elements of Beaumarchais' play with highlights of the Rossini opera and a few twists of our own, creating an all-new contemporary version ..." Using a highly theatrical representation of 18th-century Spain as his touchstone, the Toronto playwright heightens the play's comic elements at every turn. "Dialogue and lyrics are a colourful mish-mash of classic romance and modern irreverence. Plot and characters are faithful in spirit to both Beaumarchais and Rossini, though I've thrown in a few big surprises that I hope will delight those who know the source material well."
Discussing the music he composed for the play, John Millard addresses the similarities and differences between O'Brien's script and those of his predecessors. "Michael used the dramaturgical structure of the [Beaumarchais] play and placed the musical moments where they belonged inside it. All the recitative is gone. The songs function the way they do in most theatrical situations, in that very little action takes place inside them. Mostly they reveal states of emotion: current, past or future. Many of the recognizable themes are there [but] it's not the opera. It's an entertainment of our own devising, based on [the work of] Rossini and Beaumarchais." Ultimately, Millard regards the score as a "high end folk music version" of Rossini's creation, noting that it includes "patter songs, cavatina and arias. There is also a Scottish folk song, a couple of things of my own invention and quotes from many different sources."
Arguably, it is the quotes and references that most distinguish the show as contemporary — a mash-up typical of late 20th-century performance that is clever, tuneful and fun. In many shows from this period, style uses content as a pretext for coups des théâtre that foreground the paradox of combining live performers with technological wizardry. Barber is no exception although, rather than treat its sources with reverence, it lampoons them with a playful vigour that is as physical as it is stylized. In the press release for the 1996 production of the show, Theatre Columbus celebrated the act of "freely plundering from Rossini's opera" even as it reduced its summary of the plot to a cryptic sentence: "A lovesick nobleman seeks the woman of his dreams but to win her, he must enlist the help of the mercurial Figaro." More telling of the company's theatrical goals and achievements with the prodution was its contention that the play leads the audience "into a madcap spiral of deceit, disguise, trickery and mayhem."
In productions such as this, style is tantamount to sensibility. In this particular Barber, the sensibility is simultaneously base and sophisticated — an appropriate combination given the show's debt to bouffon and commedia dell'arte — theatrical styles that elevate mime and exaggerate gesture with a precision akin to dance. The style was noteworthy in the Theatre Columbus production, of which Kate Taylor noted in her review for the Globe and Mail:"From the slightest gesture to the smallest prop, every opportunity for a laugh is exploited in a hugely detailed production. It takes a great deal of control to create the appearance of reigning confusion on stage; Theatre Columbus has plenty."
The onstage band that John Millard has assembled to accompany the Soulpepper cast promises to further extend the stylish originality that the play achieved in its first production. Millard's use of banjo, violin, accordion, bass, guitar and flute is unconventional to musicals, let alone opera, yet "true to the spirit of Rossini," he suggests, though he quickly adds "but it's quite a different creature." He explains that "In some of the pieces I've attempted to replicate [Rossini's] score. In other arrangements, we've approached it in the form of a lead sheet. In others, a re-envisioning. It's a broad approach." The cast, he notes, which mixes new faces and seasoned veterans like Stratford stalwart Dan Chameroy who plays Figaro, is "discreetly miked," a tip of his hat to current fashion.
There's nothing discreet about our second original either: Of A Monstrous Child is a new musical that recalls Weimar cabaret in its coupling of queer provocation and steamy style in the service of a political aesthetic. Created by Ecce Homo for Buddies in Bad Times Theatre, which co-produces the piece on its main stage starting May 15, the show's subtitle, "A Gaga Musical," offers a key to the production's theme that Alistair Newton, its writer and director, is happy to elucidate in an interview. "I think that Lady Gaga is a kind of climax — or perhaps denouement — of post-modernism. Gaga is the ideal cipher to explore and explode our current cultural moment, ruled as it is by hipster ersatz-irony and obsession with authenticity. […] Gaga is obsessed with persona and fantasy and self-aware self-expression, and that's really what theatre is all about."
Ecce Homo, like Newton (the company's artistic director), is preoccupied with theatre in extremis — or, more precisely, "total theatre" as it was theorized by artistic visionaries like Meyerhold and Antonin Artaud in the early 20th century. For them, "self-aware self-expression" was tantamount to theatre as theatre, not as a representation of life. Ecce Homo, founded in 2005 by Newton, Matt Jackson, a production designer, and Austrian installation artist Edith Artner, defines its goal as "stylized theatrical works with strong socio-political content which synthesize text, music, dance and design to yield a total theatrical experience. Ecce Homo strives to equally balance politics and entertainment, to challenge audiences visually, intellectually and emotionally; to produce work on big themes for troubled times."
While Lady Gaga might seem a strange choice on which to focus a musical with such lofty pursuits, Newton says otherwise. "I think Gaga is actually a deadly earnest figure in a pop-cultural landscape that prizes detachment above all. I think her project is to elicit intimacy through artifice, and my work attempts to do the same." Besides, as he points out, Of A Monstrous Child is not about Gaga per se but, rather, one of her fans who loses his way en route to a Lady Gaga concert and encounters the ghost of Leigh Bowery, a performance artist who died in 1994.
Described by Boy George as "modern art on legs," Bowery has become more famous in death than in life, an irony that Newton exploits by making him emcee of the evening's shenanigans that proceed in cabaret fashion. Introducing a who's who of artists, academics and celebrities whose work Lady Gaga has used in her rise to fame, Bowery gives "the monstrous child" (and the audience) a crash course in queer performance. Simultaneously he constructs a dialectic in which originality and fame square off. As Newton puts it: "Leigh sought the kind of fame Gaga has achieved but he wasn't willing to compromise, even slightly [to get it]. A part of Gaga's genius is her ability to sell downtown aesthetics to a midtown audience. I'm not sure what Leigh would have thought of her."
For Newton, Bowery is "the rarest of pop cultural figures: a total original." To play him, the director has cast Bruce Dow, a masterful singer and actor as well as a consummate comic whose latest incarnation as King Herod in the Stratford production of Jesus Christ Superstar landed him on Broadway. At his side, celebrated comedian and impersonator Gavin Crawford plays a host of famous artists and intellectuals that includes Bjork, Marina Abramović and Andy Warhol. To bring Lady Gaga onstage, Newton employs the talents of Kimberly Persona whose uncanny resemblance to the pop star extends the musical's interrogation of authenticity. With her voice, movement and style Persona mimics the pop star so expertly that she calls into question the idea of personal authenticity in much the same way that the show interrogates the notion of originality.
This latter theme is best illustrated by the score of the piece which, ironically, is not credited to a composer. "I view Lady Gaga as an appropriation artist, in the tradition of painters like Jasper Johns and musicians like Girl Talk," Newton explains. "It only seems appropriate to create a score that deconstructs and reconstructs and mashes up bits and pieces of existing pop music to create something 'new.'" To achieve this end, Newton, along with his musical director, Dan Rutzen, and sound designer, Lyon Smith, devised a process by which Newton would suggest "how certain pieces of songs might fit together — related by a similar key, or a hook that seems to fit" at any given moment. Rutzen's task was to translate Newton's instincts into vocal arrangements and the basic outline of the instrumentation, which he then would give to Smith to create the final backing tracks. "Both Dan and Lyon are taking on several roles in this project — producer, session musician, vocal coach etc. — and they've combined their talents to create a unique musical experience."
Unique equals original? Hardly, in that all the music in the show has been heard before, although not in the way it is presented here. Onstage: a cello, piano and live, amplified voices; offstage: recorded sound. "You'll hear many recognizable pieces of songs throughout the show," Newton comments, "though no part of my artistic practice is ever entirely straight ..."
A rock-show with choral singing and acoustic moments: something like a Lady Gaga concert by way of Yoko Ono and a Gregorian choir? Rossini, via banjo, accordion and flute?
See both, and then you decide on the effect ... and the label. If you must. 
Based in Toronto, Robert Wallace writes about theatre and performance. He can be contacted at musictheatre@thewholenote.com.