My long personal involvement with community musical ensembles has prompted me, in this issue, to ponder some of the non-musical elements essential for the health of such groups. I sat down to list what they might be, and was a bit dumbfounded to find that my list contained no fewer than 20 potential activities that might arise and require someone's attention. Where to start? Obviously with number one on the list – an executive. Then they can deal with the other 19, so the rest of us, who just want to make music, can get on with it.
In one organization of which I am a member, due to unforeseen circumstances there had not been an election of an executive for an unusually long time. It was time for an election. When the president called for nominations, there were none. OK, let's ask for volunteers. None! Similarly for all positions except vice-president and treasurer. The incumbents agreed to stay for another term. Elections were deferred to an unspecified date in the future. As one member stated, "It's hard to find a sucker who is willing to take on a leadership role." Another who was asked, pointed out that he had been president twice in the past and preferred his present position as "member."
After all, there's no great financial incentive to take on the task. Most amateur musical organizations pay an honorarium to their conductor, a lesser amount to an assistant conductor, and, if they're really enlightened, to their librarian. But the many other duties are handled by conscripted volunteers who tend to experience so-called "burnout" after years of unrecognized dedication to their groups. Most of these people are in the "baby boomer" or older age groups. For many of the younger members, rehearsal night is an escape from work and family responsibilities. More paper work has no appeal.
Let's look more closely at just one of those non-musical jobs. In most groups, next to the conductor and assistant, by far the most important and demanding non-musical job is that of the librarian. Aside from library cataloguing and filling folders, that person even sometimes has an influence in music selection (even if only by getting to assert that certain pieces are unavailable!). Would you like to have a say in the music you perform, or are you happy to just play the music that you find in your folder when you arrive at the rehearsal? If you are a regular member of an ensemble, are you ever consulted about repertoire? How should the repertoire be decided? Is that the sole prerogative of the conductor or done in consultation with the librarian? (Having played in many groups for more years than I care to count, I can recall only one type of situation where I had any say in the music selection, namely in those situations where it just so happened that I was the leader. And many are the times I have suffered through a rehearsal of music that I thoroughly disliked, consoling myself with the rationalization that it was good reading practice. No better spot from which to change what I suspect is a widespread phenomenon, than the "non-musical" job of band librarian.)
Let's leave the matter of essential non-musical jobs for another month. In the meantime, please drop us a line with your comments on any of the many such tasks required for the successful operation of a community ensemble. I am sure there are others to add to the 20 on my list.
Turning to the subject of repertoire, how can a group determine what would appeal to their audiences? For many years I acted as MC for a summer music festival in Toronto. It was often possible to conduct ad hoc surveys of audience opinion during intermission or after a performance. The one constant? It was always a mixed reaction. For concert band performances, the one comment which surprised most conductors was the desire on the part of audience members to hear more marches. For most conductors, the perception was that their "concert band" had risen above the level of a parade band. By contrast, most audience members came to hear a band, and considered that marches should be an integral part of such a programme. They were referring to the kind of marches that a good military band might perform on parade, not concert marches.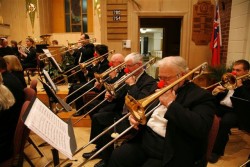 One band that has mastered the art of wrapping diverse repertoire in an appealing unifying theme is London's Plumbing Factory Brass Band under Henry Meredith. It has come up with a very appealing theme for two identical concerts this month in London and St. Thomas. The St. Thomas concert on April 20 will be performed in the Canada Southern Railway Station which was used for many years by trains of the Michigan Central Railroad en route between Detroit and Buffalo. The program is titled Explorations – Movements, Moods and Myths Abound; Sights, and Sites Described in Sound, and features some familiar band compositions as well as several rarely heard works.
A fast moving gallop, The Ideal Railway, will be dedicated at both concerts to the Michigan Central Railroad Employees Band (founded in 1919). In fact, the PFBB's music is typical of what such a company band would have played in its heyday (1920s and 1930s). The St. Thomas concert also salutes the ongoing restoration of the train station and heralds the opening of a special exhibit on the history of the MCR Employees Band, all sponsored by the station's owners, the North America Railway Hall of Fame.
The tubas just won't go away. After so much tuba talk in last month's issue, there was going to be little mention of these musical brutes in this issue. However, they are not going away quietly.
First we received an email message from local tuba player Hugh Wallis telling us of a few tuba concerti we hadn't mentioned, as well as a work for tuba and piano. We then learned that the Hannaford Street Silver Band's "Festival of Brass: Rising Stars Concert" on Friday, April 15 will feature, as guests, the University of Toronto Tuba Ensemble directed by Sal Fratia. Not yet satisfied, the HSSB's Sunday concert, April 17, features yet another tuba soloist, Patrick Sheridan.
Definition Department
This month's groaner is frugalhorn: a sensible and inexpensive brass instrument.
We invite submissions from readers.
Coming Events
Please see the listings section for full details.
• Saturday, April 2, 7:00pm: Milton Concert Band presents its spring "Milton Pops" at Bishop Reding Catholic High School. The show will feature an eclectic mix of light classics, world music and movie tunes, with a few surprises along the way!
• Wednesday, April 13, 7:30pm: Plumbing Factory Brass Band, Henry Meredith, conductor presents Explorations at Byron United Church, 420 Boler Road, London.
• Weekend of April 15, 16 and 17: Hannaford Street Silver Band  (HSSB) presents its eighth annual Festival of Brass:
Friday, April 15: HSSB's Rising Stars annual Young Artist Solo Competition, in which the finalists will compete for the honour of  performing with the HSSB on Sunday.
• Saturday, April 16 12 noon to 5:15pm: In "Community Showcase," the HSSB welcomes community bands from across Ontario and beyond. Some ensembles will compete for the honour to receive The Hannaford Cup, the HSSB's annual award for excellence.
Saturday, April 16, 8:00pm: HSSB welcomes to Toronto the Lexington Brass Band from Kentucky with trumpet virtuoso Vincent DiMartino.
• Sunday, April 17, 3:00pm: HSSB presents: Low Blows with tuba soloist Patrick Sheridan. n
You can write to us at bandstand@thewholenote.com.