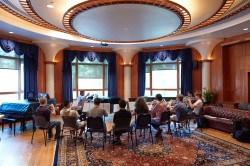 Rochester, NY, USA
June 26 to August 4, 2017 (varies by program)
Contact: Andrea Schuler
585-274-1074 or toll-free 1-844-820-3766
summer@esm.rochester.edu
summer.esm.rochester.edu
Deadline: June 1, 2017 (some programs have earlier deadlines; see website for details)
Cost: $265 - $4650
Day and Residential programs
The Eastman School of Music's Summer at Eastman program offers students and the community an individualized and world-class music education experience. Choose between residential music programs and camps for middle- and high-school students (Summer Jazz Studies, Music Horizons, and Eastman at Keuka), week-long institutes devoted to various instruments or specialties (for students and adults), half-day music workshops for youth, and collegiate classes in music education, music history and music theory. New programs this year include the Eastman Trumpet Retreat at Keuka (for adult students), Level 1 Dalcroze certification, Alexander Technique for Musicians, Beyond Performance Anxiety: A Workshop, Cello and Guitar institutes, and Schubert to Sondheim: Pedagogy for the Male Voice. Visit www.summer.esm.rochester.edu for course information, schedules and registration details.