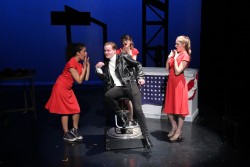 Artscape Wychwood Barns, 601 Christie St., Toronto, Ontario
Summer Youth Intensive: July 4 to 30, 2017
Summer Weekly Programs: July 11 to 15, 2017
Contact: Denise Williams
416-551-2093
directors@nostringstheatre.com
www.nostringstheatre.com
Deadline: June 15, 2017
Cost: $300 - $400/week
Camp Hours: 9am - 5:30pm
Music Theatre training and performance programs for youth in Toronto led by industry professionals; workshops in singing, acting, dancing, creative writing, audition prep, acting on camera, masterclasses and rehearsals. This season will feature the Tony Award-winning Canadian musical theatre show 'The Drowsy Chaperone' by Lisa Lambert and Greg Carpenter in July (Youth Program) and a new Canadian musical by Tyler Check and Tristan Hernandez in August (EAP). Tween Program (10 to 13), Youth Program (12 to 21), Emerging Professional Artist Program, EAP (19 to 35).