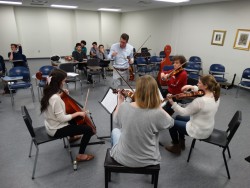 Wilfrid Laurier University, 75 University Ave. W., Waterloo, Ontario
May to August 2017 (contact for details)
Contact: Outreach coordinator
519-884-1970 x2492
choosemusic@wlu.ca
www.wlu.ca/music
Deadline: Open
Cost: Based on program
Day and residential programs available
Laurier's Faculty of Music offers summer programs for students of all abilities. New for 2017, Laurier will host a three-week professional training Music Theatre Academy (May 8 to 26, $950) focusing on improving skills in acting, dance and belt/mix vocalization for classically-trained singers. QuartetFest, Laurier's international intensive chamber music workshop for young artists is led by the Penderecki String Quartet and is open to string quartets and string ensembles with piano (May 26 to June 11, $600). The Faculty of Music's Conservatory (Beckett) offers summer programs in Music and Drama Magic (ages 7 to 13, $260), Art n' Play (ages 5 to 7, $130), Music Mania (ages 5 to 7, $130), Music Explorers (ages 7 to 10, $130), Art Incubator (ages 7 to 10, $130) and Jazz for Adults (ages 18+, $260).