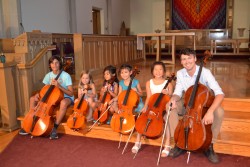 Kingsway Conservatory of Music,
2848 Bloor Street W., Toronto, Ontario
Weekly programs from July 3 to August 18, 2017
Contact: Kingsway Conservatory of Music
416-234-0121
info@kingswayconservatory.ca
www.kingswayconservatory.ca
Deadline: Open, early-bird discount deadline April 30
Day programs
Committed to "Inspired Learning," the Kingsway Conservatory of Music provides summer programs for various ages and experience levels that engage, challenge and excite on many levels. Offerings for summer 2017 include: Kingsway Chamber Music Festival - Strings & Piano for Intermediate & Senior levels (strings min. RCM Gr 3, piano min. RCM Gr 5) including chamber coaching, orchestra rehearsals, group composition, workshops and guest artists; "Annie KIDS" (8 to 12 years) and "Guys and Dolls JR" (13 to 17 years) Musical Theatre Camps - preparing and presenting fantastic, full-scale musical productions on a professional stage; Triple-Threat Arts Discovery Camp (4 to 8 years) inspiring self-expression through music, art and drama; Suzuki/Traditional Strings Camp (4 to 10 years) for string players in their beginning years; Private instruction on all instruments.