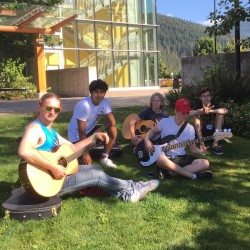 Toronto, ON; July 23 to 28, 2017
San Diego, CA; June 18 to 23, 2017
Nashville, TN; July 30 to August 4, 2017
Seattle, WA; August 13 to 18, 2017
Contact: 905-567-8000
www.guitarworkshopplus.com
For ages 10 to 90, beginner to professional
Guitar Workshop Plus offers week-long workshops in a musical environment at superb facilities. Professional music faculty and world-famous guest artists teach and perform for our participants. Guitar, bass, drum, keyboard, songwriting and vocal courses are offered for all levels, ages and styles including rock, blues, jazz, acoustic and classical. Our top-ranked summer music program provides the opportunity to participate in daily classes, clinics, ensemble and student performances, and evening concerts. Participants also take away a DVD of their live performances! Past guest instructors include Steve Vai, Alex Lifeson, John Scofield, Robben Ford, Tommy Emmanuel, Andy Summers, Billy Sheehan and many others! GWP is much more than just a guitar camp or summer music camp. You've seen the rest…now come learn from the best!