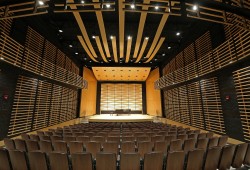 Western University, 1151 Richmond St., North London, Ontario
Programs for all ages May 1 to August 30, 2017
Contact: Program coordinator
519-661-2043
music@uwo.ca
www.music.uwo.ca/outreach
Deadline: open
Cost: Varied
Day programs
The Don Wright Faculty of Music offers several musical workshops this summer tailored to various ages, experience levels of musicians and music educators. Summer opera intensives: Canadian Operatic Arts Academy (COAA) and the Accademia Europea Dell'Opera (AEDO) provide singers, pianists and directors with the skills to obtain, realize, and sustain a career in the operatic profession; Kodály Certification Program: engages music educators in an innovative pedagogical workshop, strengthening their musicianship and enhancing their teaching ability; and Choral Music Education - Explorations in Gesture, Sound and Pedagogy: A five-day intensive course, for choral music educators at all levels of experience. COAA (May 1 to 27, $700); AEDO (July 3 to August 13, €3000 incl. housing in Lucca, Italy); Kodály (July 2 to 14; $695). Choral workshop (August 26 to 30, $595 or $125 by day).