Allison Luff
416-446-0188
managingdirector@amadeuschoir.com
www.amadeuschoir.com

Read Profile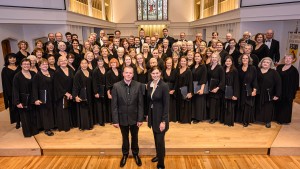 Enlivening Toronto's arts community for 46 years, the award-winning Amadeus Choir is a semi-professional choir of auditioned voices. Led by the dynamic artistic director and conductor Kathleen Allan, the choir champions the best of choral music through a self-produced Toronto concert series, guest performances, and special events.
The choir is known for programming major classical works with orchestra, as well as works by Canadian and international composers. The Amadeus Choir actively engages in educational and community outreach through choral workshops. Regular rehearsals are held on Tuesday nights in the Don Mills and Lawrence area.
Auditions are scheduled May 23 to 26. Depending on recommendations from the Ontario government, auditions may be held virtually. Please email us for more information.