Kaija Corlazzoli
416-408-0208
kaija@amiciensemble.com
www.amiciensemble.com

Read Profile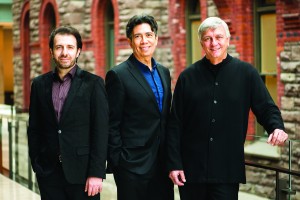 Amici Chamber Ensemble celebrates 33 years as one of Canada's finest and most distinguished chamber music ensembles. For more information, please visit our website!
Artistic directing trio, clarinetist Joaquin Valdepeñas, cellist David Hetherington and pianist Serouj Kradjian, invite some of the finest musicians to join them in innovative and eclectic programming, celebrating friendship through music. Alongside numerous broadcasts of their concerts on national radio, Amici Chamber Ensemble's recordings have placed them firmly among the world's best chamber musicians.
Joaquin Valdepeñas is regarded as one of the most distinguished clarinetists of his generation. David Hetherington plays his cello "with rare delicacy and clarity". Pianist and composer Serouj Kradjian is hailed as a "keyboard acrobat" of "crystal virtuosity" by the press.
Amici's 2021-22 season includes:
- American Berserk (Oct 30) featuring Jonathan Crow
- Amici Ritorna (Dec 5)
- La Flûte Enchantée (Feb 6) featuring Marina Piccinini
- Schubert Octet (Apr 10) featuring Mayumi Seiler
- Tango Gala (May 15) featuring Joyce El-Khoury
You can also enjoy Amici's recordings online on their YouTube channel.