Lauren Mayer
416-433-5495
info@etobicokecentennialchoir.ca
www.etobicokecentennialchoir.ca

Read Profile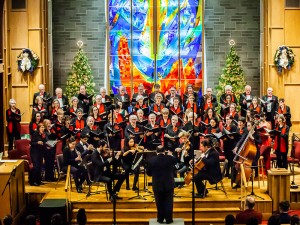 Etobicoke Centennial Choir (ECC) is a welcoming, inclusive SATB community choir. We strive to enrich the lives of our choristers and audience members through inspired performances of diverse choral repertoire, ranging from classical masterpieces to contemporary compositions and popular music.
ECC offers amateur singers a challenging but supportive choral music experience, facilitated by a professional music director, accompanist and section leads.
As a result of public health guidelines and restrictions related to the global COVID-19 pandemic, the 2020/21 season will be like no other in ECC's 54-year history. We will be offering virtual rehearsals on Tuesday evenings at 7:30pm, working on choral repertoire and vocal training. New singers are most welcome to join us in this new venture. If conditions permit, we may perform a live concert in late spring 2021. Please visit our website for further updates.