Debra Chandler or Brenton Chan
416-571-6170
debra@concertsincareontario.com
www.concertsincareontario.com
Read Profile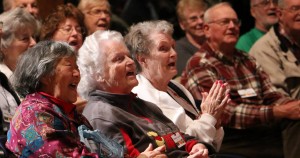 Since 2006, Concerts in Care Ontario has presented programming that makes a significant impact in a range of seniors' care communities across Ontario. Anchored at the intersection of artistic excellence and research about music and the brain, we curate series of turnkey concerts in seniors' facilities, performed by top-calibre professional musicians. Concerts in Care Ontario knows that music can unlock the healing power to transform. Our concerts provide a focal point for building bridges between elders, caregivers and loved ones, while engaging powerful emotions which can activate memory and improve mood for seniors in care who may be isolated and withdrawn. As soon as Ontario went into lockdown in mid-March, we immediately transformed our musical services into digital musical content in two distinct forms to connect with seniors effectively:
Live 30-min concert videos that bring specially trained professional musicians to thousands of isolated seniors through high quality productions framed in an informal and personal approach.
Interactive Zoom Concert Calls including highest quality performances, plus live Q&As and conversations with the musicians.
And Music Outside plus Concertmobile with Tapestry Opera.