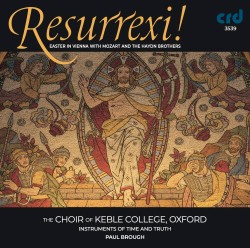 Resurrexi! – Easter in Vienna with Mozart and the Haydn Brothers
The Choir of Keble College Oxford; Instruments of Time & Truth; Paul Brough
CRD Records CR 3539 (keble.ox.ac.uk/about/music)
It has been suggested that Mozart may have written sacred music to remain in favour with his patrons. This is unlikely, but even if it is true it makes no difference to the meaning of the music, for the music of Resurrexi – the Easter mass – expresses a deep, childlike and unquestioning faith, while being quintessentially Mozart: questing and pious, yet at the same time, irresistibly joyful. Director Paul Brough has added two additional pieces to this full mass: a Sequenza by Michael Haydn celebrating the paschal lamb which includes the plainchant; and the heartfelt and passionate Te Deum by the great Joseph Haydn that is, in every measure, as celebratory and full of nervous energy as the Mozart.
Brough espouses that this recording is an object lesson in the music of liturgy. Indeed there is a profound depth and beauty in the exemplary declamation of chants such as Vidi aquam and the Pater Noster, and fervent and thrilling singing through the Sequenza to the Te Deum, by the Choir of Keble College, Oxford.
The choir has mastered sustained, seamless legato singing; complemented with sensitive accompaniments by the Instruments of Time and Truth, the music is revelatory and rewarding. Voices, brass and reeds, timpani and strings inhabit this Latin liturgy with unaffected brilliance striking gold from the opening Regina Cœli by Mozart to the fervent account of Haydn's Te Deum at closing.