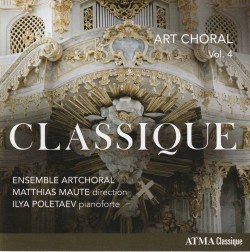 Art Choral Vol. 4 – Classique
Ensemble ArtChoral; Matthias Maute; Ilya Poletaev
ATMA ACD2 2423 (atmaclassique.com/en)
Some choirs and their musical projects have clearly defined areas of focus. Others, such as Ensemble ArtChoral, directed by Matthias Maute, think bigger: the ArtChoral series is a unique and ambitious three-year, 11-volume project surveying the history of choral singing over six centuries, from the Renaissance to the present day. Classique, the fourth release in the series, focuses on the Classical era and contains music by Gasparini, Bierey, Haydn and Mozart, accompanied by fortepianist Ilya Poletaev.
Much of the music on this disc was composed for liturgical use, including Johann Michael Haydn's Agnus Dei, Bierey's Kyrie (which is based on the first movement of Beethoven's "Moonlight" piano sonata) and Mozart's ubiquitous Ave Verum Corpus, as well as a set of fascinating vocal trios and quartets by Franz Joseph Haydn. This thoughtful programming provides a convincing overview of the era's styles and sounds through smaller forms, at a time when much of the choral music being composed was large scale, such as the masses and oratorios of Haydn, Mozart and Beethoven.
Ensemble ArtChoral is in fine form throughout, and their skillful approach to this music is apparent from the first notes. Using the fortepiano as the sole source of accompaniment is a thought-provoking choice, with its unique timbre and relatively inflexible dynamic range leading to an increased attention toward expressive boundaries; the listener must reorient themselves to understand that, while they are still hearing the juxtaposition of fortes and pianos, the extremes are less pronounced than might be expected from performances with modern instruments.
It is a monumental task to summarize six centuries of anything, let alone such a vast expanse of composers and their music; Ensemble ArtChoral continues to prove that they are up to the challenge with Classique.