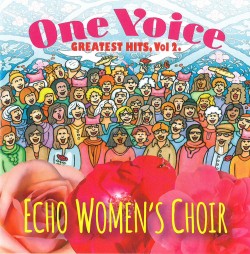 One Voice – Greatest Hits Vol.2
Echo Women's Choir
Independent (echowomenschoir.ca)
Echo is a choir of women based in Toronto, cultivating in its own words "the beautiful, rich and powerful sound of adult women's voices." Co-directed by community music-maker (and past music director at Holy Trinity Anglican Church, the home of Echo) Becca Whitla and singer and choral conductor Alan Gasser, the 27-year-old choir has grown to 80 voices while committed to inclusivity and diversity in membership and repertoire.
Echo's second album One Voice: Greatest Hits Volume 2 provides vivid live concert recordings of 25 favourite songs from its past 16 years. The choir's commitment to social justice rings true in several selections. Just two examples: the anti-war anthem Last Night I Had the Strangest Dream penned by Ed McCurdy in 1950, and You Will Be Free, set by Gasser with words by South African religious leader and human rights activist Desmond Tutu.
Among the things that attract me to Echo's repertoire is its warm-hearted global embrace. In addition to original Canadian compositions – I'd like to mention Echo's premiere of the choral version of my own North of Java in its formative years – it also covers traditional folk song arrangements from several regions of Europe, Africa and the Americas.
The album's global journey ends with the stirring gospel song Everything Will Be Alright by the Grammy Award-winning Rev. Dr. James Cleveland. It's a passionate downtown Toronto rendition of the African-American Baptist original, its positive message echoing through my speakers.