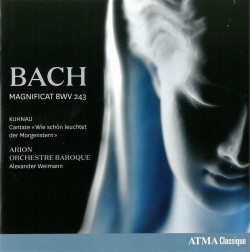 Bach – Magnificat BWV243; Kuhnau – Cantate "Wie schön leuchtet der Morgenstern"
Winkel; Zomer; Laing; Wilder; Brock; Arion Orchestre Baroque; Alexander Weimann
ATMA ACD2 2727 (atmaclassique.com)
Review
Bach composed the Magnificat for Christmas 1723. The work was originally in E-flat Major but revised to the lower tonality of D Major. Like most recordings this CD presents the revised version but with two differences. The first version included four interpolations. These have been included (transposed in accordance with the D-Major tonality) on the present recording. A more substantial difference with most performances lies in the handling of the choral sections. Most performances observe a marked difference between the solo and the choral sections but Weimann's interpretation follows the views of Joshua Rifkin and Andrew Parrott that the choral sections should also be sung one to a part. The gain in clarity in movements like Fecit Potentiam and Sicut locutus is unmistakable. There is an odd error in the Table of Contents which states that Suscepit Israel is a duet between the two soprano voices. It is actually a trio with the alto taking the lowest part.
The performance is very successful and several moments stand out: the virtuoso trumpets in the opening and closing movements, the soprano solo (Johanna Winkel) and oboe d'amore obbligato (Matthew Jennejohn) in Quia respexit, the alto and tenor duet (James Laing and Zachary Wilder) in Et misericordia and the alto solo and the flutes' obbligato (Claire Guimond and Alexa Raine-Wright) in Esurientes implevit bonis.
The CD also contains Johann Kuhnau's Wie schön leuchtet der Morgenstern, also for five voices and also performed one to a part. It is an imaginative coupling: Kuhnau is best known as Bach's predecessor as cantor of Saint Thomas' in Leipzig, but he is clearly an important composer, whose works are worth listening to for their own sake.