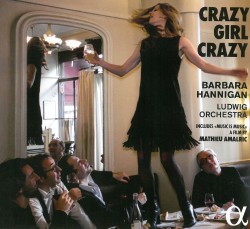 Crazy Girl Crazy
Barbara Hannigan; LUDWIG Orchestra
Alpha Classics ALPHA 293 (alpha-classics.com)
As internationally celebrated Canadian soprano and conductor Barbara Hannigan said in a 2015 CBC radio interview: "I love taking risks as a performer …" Her risk-taking paid unexpected dividends when her Crazy Girl Crazy CD was awarded the 2018 GRAMMY for Best Classical Solo Vocal Album.
In fact, Hannigan went well beyond the solo vocalist category. She not only sang but also conducted the Amsterdam-based LUDWIG Orchestra. She even had a hand in the newly minted orchestral arrangement of songs from Gershwin's 1930 musical Girl Crazy in collaboration with Bill Elliott.
Sequenza III (1965) for female voice serves as the album's spectacular curtain-raiser. Originally composed for the legendary American diva Cathy Berberian by Luciano Berio, Hannigan puts her own vocal and intellectual stamp on this vocal tour de force. Berio opened the door to multiple renderings of his score, noting, "In Sequenza III I tried to assimilate many aspects of everyday vocal life, including trivial ones, without losing intermediate levels or indeed normal singing … Sequenza III can also be considered as a dramatic essay whose story [… explores] the relationship between the soloist and her own voice." I think the composer would be chuffed with Hannigan's powerfully idiosyncratic interpretation and advocacy of this seminal work.
The core of Crazy Girl Crazy is however centred on Hannigan's long-term love affair with Alban Berg's opera Lulu, the lead character of which she has portrayed onstage to great acclaim. It is represented here by Berg's masterful symphonic-scale Lulu Suite, given an emotionally powerful performance by LUDWIG Orchestra under Hannigan's direction.
The album closes with Girl Crazy Suite, the Elliott/Hannigan re-orchestration of Gershwin's original songs, but re-contextualized in light of Berg's orchestral sound world.
As a long-term fan of the music on this disc, I found it a very satisfying listen. It's also satisfying to know that in Hannigan this repertoire has a convincing advocate able to convey it with passion and intellectual rigour to future generations.