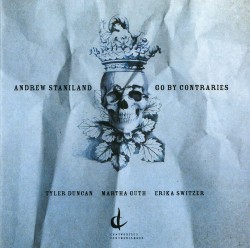 Andrew Staniland – Go By Contraries
Tyler Duncan; Martha Guth; Erika Switzer
Centrediscs CMCCD 25918 (musiccentre.ca)
Three dramatic song cycles by Canadian composer Andrew Staniland comprise this exciting, intense, rewarding release performed with respect, musicality and technical prowess by soprano Martha Guth, baritone Tyler Duncan and pianist Erika Switzer. Each showcases the composer's innate ability to combine words and sound to create thought-provoking, quasi-programmatic works.
Earthquakes and Islands, a setting of Robin Richardson's poetry, is a tour de force, an eight-movement work exploring the emotional aftermath of a relationship gone wrong. This is high intensity, contrasting music verging on the disturbing. The first section's opening dramatic piano trill and soprano held notes, subsequent almost-over-the-top low piano crash and low pitched chords contrasting the soprano line set the stage for the entire work. The almost-spoken baritone part in Future Perfect's third section has the piano atonal lines double the vocals to the calming ending. In My Voice, In My Mouth, dramatic piano low chords, distressed soprano vocals, huge loud and reflective quieter sections support the cancer patient's feelings of panic/calm. The closing Go By Contraries is just that, as piano string glissandos set up the vocal duet to the closing ascending buildup and final piano fade.
Peter Quince at the Clavier, using a Wallace Stevens text for baritone, and Execution Songs for soprano, feature more of the same intense soaring vocals, piano textures and wide ranging dynamics.
Maybe a bit too melodramatic, but these great compositions, production and performances must be heard!