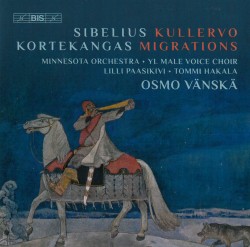 Sibelius – Kullervo; Kortekangas – Migrations
Lilli Paasikivi; Tommi Hakala; YL Male Voice Choir; Minnesota Orchestra; Osmo Vanska
BIS BIS-9048 SACD
The early 1890s found Sibelius engrossed in the Kalevala and other verses of Finnish poetry that were to become the subject matter of so many of his most celebrated and memorable works. Kullervo, published in 1892, was Sibelius' first grand symphonic opus. It was his first setting of stories from the Kalevala and is packed with new ideas, revealing first glimpses of many of the composer's trademark orchestrations, his poetic spirit and his depiction of northern vistas. The work is a symphonic poem in five parts scored for symphony orchestra, male voice choir, mezzo-soprano and baritone. The story tells of a clan massacre, seduction, incest, revenge and suicide. This performance is instantly pleasing, particularly the male choir. Interestingly, between 1892 and the composition of the First Symphony in 1898-99 Sibelius wrote just about all of his mighty tone poems, Op.8 to 27. The first performance of Kullervo in Canada using Sibelius' final revisions was in Roy Thomson Hall on May 3, 1986. The soloists were Ritva Auvinen, soprano, and Esa Ruuttunen, bass, with the Laulun Ystävät (from Turku, Finland), the Toronto Finnish Male Choir, the Toronto Estonian Male Choir and the CJRT Orchestra conducted by Paul Robinson. It was truly a gala event for the city and the who's who, too.
Olli Kortekangas, born in 1955, studied music theory and composition at the Sibelius Academy in Helsinki under the direction of Einojuhani Rautavaara and continued his studies in Berlin with Dieter Schnebel. His music has been featured in concerts and at festivals around the world and he is currently working on several domestic and international commissions. Migrations, scored for orchestra, male choir and mezzo was commissioned by the Minnesota Orchestra. The English-language text was written by Sheila Packa, a Minnesotan poet of Finnish roots. "I believe that immigration affects families deeply, particularly in relation to borders, language and landscape…many believe that speaking a new language brings out different parts of the self." Migrations is a narrative poem in seven parts: four sung movements, Two Worlds, Resurrection, The Man Who Lived in a Tree and Music That We Breathe, separated by three instrumental interludes. A suitable disc mate for the Sibelius. The brilliant YL Male Voice Choir was founded in Helsinki in 1883 is deservedly one of the most prominent male choirs in the world. The recorded sound is superb.