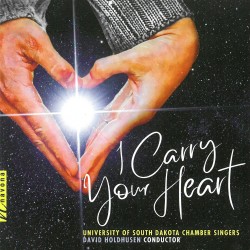 I Carry Your Heart
University of South Dakota Chamber Singers; David Holdhusen
Navona Records nv6203 (navonarecords.com)
South Dakota? Isn't this midwestern state most famous for its beautifully rugged landscape, including Mount Rushmore? Nevertheless, in light of this fine recording titled I Carry Your Heart, featuring the University of South Dakota Chamber Singers under the direction of David Holdhusen, it seems that South Dakota also has a vibrant choral scene.
The USD Chamber Singers is the institution's premier vocal ensemble, having earned a reputation for high performance standards with a focus on a cappella repertoire. The ensemble presents formal concerts on campus each semester and its annual tours have taken the group to various parts of the United States and to Europe.
From the opening track of the CD – the rousing South African folk-tune, Tshotsholoza – it's clearly evident that the ensemble loves what it's doing – what a jubilant and joyful sound! Yet it is not only the exemplary performing throughout the disc that makes I Carry Your Heart so attractive, but the carefully-chosen program – indeed, there' s something for everyone. In addition to the uplifting spirituals such as Sit Down Servant and Ain't That A-Rockin' are compositions of a more serene nature such as Jonny Priano's motet Sicut Cervus and Kenneth Lampl's Dirshu Adonai, the latter a sensitive meditation with layered harmonies and rich tonal clusters. It is in pieces such as these that the choir's fine melding of vocal ranges comes across so clearly. Several numbers also make use of vocal and instrumental soloists, thereby showcasing the high musical standards even further.
My only disappointment is the absence of program notes – it would have been nice to have the texts, or at least some background material on the pieces. Yet this is a minor quibble and in no way mars a splendid performance. For lovers of a cappella choral music, I Carry your Heart is a delight.