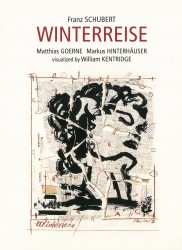 Schubert – Winterreise
Matthias Goerne; Markus Hinterhäuser
Cmajor 738008
It is fascinating to observe how new pressures from audiences and technology constantly induce change in the way we consume art. Vinyl and tape having been first supplanted by CD, DVD and Blu-ray, quickly gave way to live streaming and playing hi-fi music on definitively low-fi smartphones. None of this has ever happened without controversy – remember the brouhaha accompanying the introduction of surtitles in most opera houses of the world?
Here is a recording of a conventional voice and piano performance augmented, or diminished (choose your side), by visual projections designed by William Kentridge. Only vaguely related to the music, these graphic designs and animated images seek to appease the multisensory needs of modern audiences. Or are they designed to stop them from checking their Twitter feed or Facebook updates during the concert? Whatever their purpose, they surely did not work for me, detracting from the performance, rather than enhancing it. And what a performance! Goerne, who is surely one of the world's leading singers of Lieder, especially by Schubert and Mahler, is in fine voice here. Compared to previous recordings, his voice sounds rounder, more velvety and supported across the tessitura, while developing a darker, more intriguing timbre. So, this is a great performance, whether you close your eyes (me) or keep them wide open (some of my ADHD, millennial, image-hungry colleagues).