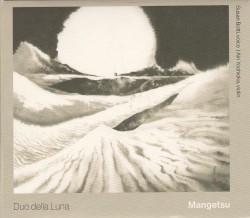 Duo della Luna: Mangetsu
Susan Botti; Airi Yoshioka
New Focus Recordings FCR 305 (newfocusrecordings.com)
A rare ensemble combination of voice and violin, Duo della Luna presents an album that is sonically beautiful and contextually adventurous. Mangetsu is dreamy and poetic yet cutting edge and experimental. The thread that connects a variety of compositions on this album is the unique ensemble sound throughout: deep, eloquent, potent. Susan Botti (voice/composer) and Airi Yoshioka (violin) venture into themes of life and creation, imagination, female power and love with a magical artistic rapport.
The album opens with Botti's dreamlike multi-movement title work. The wordless sections ("mangetsu") are nested in between the movements with poems describing the moon and the ethereal world of childhood (Shikibu, Yeats, de Saint-Exupéry). The result is music that is willowy and sensual, a luring mystery. Botti explores the possibilities of voice and violin interactions to a great degree but always in the service of the poetry. Yoshioka's violin playing is simply gorgeous, the colours and the precision equally alluring.
The rest of the album consists of Botti's innovative arrangements of selected Bartók Duos for Two Violins, followed by Kaija Saariaho's intimate Changing Light. Linda Dusman's Triptych of Gossips, incorporating a fancifully rhythmical poem by Serena Hilsinger, is a chamber of curiosities of extended techniques and a great sonic adventure.
There is a certain kind of magic that happens when the music is expressed in so few voices. The sound becomes unadorned and pure, and these two performers take full advantage of it.