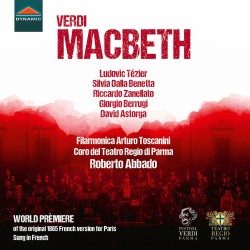 Verdi – Macbeth
Soloists; Filarmonica Arturo Toscanini; Coro del Teatro Regio Parma; Roberto Abbado
Dynamic DYN-CDS7915.02 (naxosdirect.com/search/dyn-cds7915.02)
My love for Verdi's Macbeth began here in Toronto many years ago when I saw Hungarian soprano sensation Georgina Lukács in the famous Mad Scene, the late Richard Bradshaw conducting with such a rapport between them that it seemed like he was conducting just for her. Today my love has been rekindled with this new CD from Parma. Parma is now what Salzburg is to Mozart or Bayreuth to Wagner, a Verdi Mecca.
Success for Macbeth was a long time coming. In 1847, it was the first time Verdi tried to tackle Shakespeare, his idol since childhood, but the atmosphere of foggy, rainy Scotland plus the witches didn't please the Italian public. However in 1865, a golden opportunity came from Paris and big money too. He revised the opera by translating it into French, adding new music and a mandatory ballet to suit the taste of Paris. This version fared better and it is presented here.
This is an open air concert performance no doubt necessitated by COVID, using Parma's resplendent Opera House as a backdrop and with the best singers available. Perhaps the greatest Verdi baritone alive, Ludovic Tézier from Marseille, with his velvety, many shaded but strong voice, simply lives the title role. His bloodthirsty wife and helpmate, Lady Macbeth, is sung by Sylvia Dalla Benetta who is rapidly becoming Italy's leading dramatic soprano. She is sensational with a tremendously wide vocal range and power. Her high notes could shatter glass and her low notes are bloodcurdling. Her first scene and the cabaletta Viens! Viens! Sois homme! Il faut régner is explosive. Riccardo Zanellato's smooth basso is heartrending as Banquo. Scholarly conductor and Verdi expert Roberto Abbado conducts with throbbing vitality.