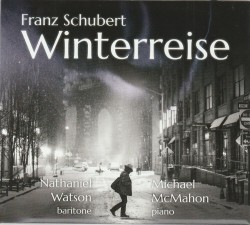 Schubert – Winterreise
Nathaniel Watson; Michael McMahon
Leaf Music LM253 (leaf-music.ca)
Having been recorded well over 500 times, Winterreise remains one of the most beloved compositions by Schubert. Set to 24 poems by Wilhelm Müller, a poet, soldier and Imperial Librarian, this song cycle follows the journey of a heartbroken wanderer through the countryside. Narratively nothing much happens here, everything unfolds inside the protagonist. This music requires a high level of maturity and insight from both performers and listeners. From the darkness of Good Night, to the beautiful torment of On the Stream and the turbulence of The Stormy Morning, the intensity of Schubert's music never lessens.
Nathaniel Watson, baritone, and Michael McMahon, piano, convey a world that is bleak and lonely, profound in its vulnerability yet, on the other end, almost exhilarated in its core. These two artists are well attuned to Schubert's music, their phrasing impeccable and their synergy unmistakable. Originally written for tenor, Winterreise is frequently transposed to other voices. Baritone works particularly well, with its range of colours and a degree of masculinity. Watson's voice is dark and expressive, adding a layer of intensity to the words. The piano, having an equal role to the voice, paints the winter imagery of the harsh natural elements such as storms and wind, and McMahon does it exuberantly. On the other hand, he parallels the emotional unrest expressed in the voice with a wonderful restraint.
Not for the faint of heart, this album is a heartfelt addition to the music libraries of contemplative listeners.