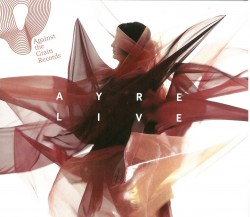 Golijov – Ayre: Live
Against the Grain Theatre; Miriam Khalil
Against the Grain Records ATG001CD (againstthegraintheatre.com)
After I heard Ayre: Live for the first time, I knew this recording was going to be one of my favourite albums of 2018. The immediacy of the live recording is always exciting and Osvaldo Golijov's song cycle for soprano and a small chamber ensemble is beyond gorgeous – it is intimate yet powerful, piercing with emotion and mesmerizing in its tonal expression. Like the air we breathe (the album's title means air in medieval Spanish), it transcends the boundaries between music traditions, languages and cultures.
Based on the interweaving melodies, rhythms and poetry of Arab, Christian and Sephardic Jewish culture in Spain, Golijov also weaves in his own compositional language thus making Ayre an elaborate historical and emotional narrative. Eleven songs flow inherently from one to another while the energy rises and falls effortlessly with each one. Una madre comió asado and Nani are heavenly sounding, tranquil lullabies (though the texts are implying more complex emotions). Combinations of electronica and traditional melodies in Wa Habibi makes this song surprisingly fresh and captivating. Tancas serradas a muru, with its bewitching vocals and tribal rhythms, is a whirl of primal energies and, in contrast, Kun li-guitari wataran ayyuha al-maa', a poem spoken in Arabic, creates a wonderful aural sparseness.
The superb chamber ensemble of Toronto's Against the Grain Theatre has a wonderful synergy with the company's co-founder, soprano Miriam Khalil, a true star of this recording. Her immense range of colours and fascinating vocal transformations made her performance on this album both spectacular and touching.