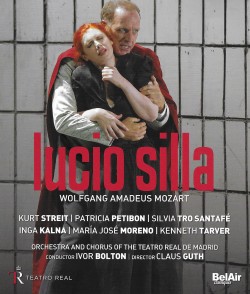 Mozart: Lucio Silla
Kurt Streit; Patricia Petibon; Teatro Real, Madrid; Ivor Bolton; Claus Guth
BelAir Classiques BAC 150 (belairclassIques.com)
Lucio Silla is Mozart's fifth opera, written when he was a 16-year-old. Lucio Silla was a Roman dictator and as one might expect, was surrounded by endless found love, lost love, intrigue, threats, dire punishments, etc.
Mozart's early operas are characterized by concertante arias – that is to say the vocal line is like an instrumental concerto (duet, trio, quartet, etc.). Such vocal writing is extremely demanding of the singers. These early works of Mozart bare no signs of being composed by a teenager. The stories, and Lucia Silla is no exception, have complex plots and lyrical texts that are dealing with human feelings and troubled souls. Another characteristic of these early works was the employment of castrati in the leading roles. In Lucio Silla, as in other works, for the most part Mozart wrote for singers that he knew and the writing was customized to suit their virtuosity.
Whereas today there are no castrati, there are countertenors who specialize in Baroque and early classical composers: Vivaldi, Pergolesi, Handel et al. In all Mozart operas, however, today's practice is to use female vocalists. The best example is the role of Cherubino, a male character written to be sung by a castrato in Le nozze de Figaro, where today only female vocalists are heard. In Lucio Silla, two of the main male characters are stunningly sung by women, in particular, soprano Silvia Tro Santafé in the role of Cecilio. She is truly outstanding with a magical voice and a true Mozart technique and affinity, in the company of a cast not far behind. This production attempts to recreate the story into a later time. I am not taken by the staging, truly abstract and not of anything to do with the plot. Hence, there is nothing else but the superb singing to occupy our attention. In that way the staging issue is unimportant, thanks to the greatness of Mozart's incomparable score.
The orchestra and conductor are first-class in every respect. Others in the cast are Kurt Streit (Lucio) Patricia Petibon (Giunia), Inga Kalna (Cinna), Maria José Moreno (Celia) and Kenneth Tarver (Aufidio).