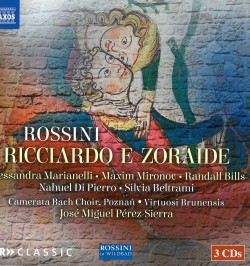 Rossini – Ricciardo e Zoraide
Marianelli; Mironov; Bills; Di Pierro; Beltrami; Camerata Bach Choir, Poznan; Virtuosi Brunensis; José Miguel Pérez-Sierra
Naxos 8.660419-21 (naxos.com)
By the year 1818, the 26-year-old Rossini was well on his way to becoming the most successful composer of opera in the Appenine Peninsula (i.e. today's Italy). He left Venice in 1815 with a dozen operas written, including two masterpieces, and – via Milan, Rome and a few more masterpieces – he arrived in Naples with a lucrative contract from Teatro San Carlo, Naples' resplendent opera house that rivalled Milan's La Scala. He was a busy man, working furiously and fast, composing three operas per year plus looking after productions of his earlier works in Rome, Milan and Venice. He was already a rich man and he also married his leading lady Isabella Colbran, a smart move in more ways than one.
Of Rossini's 39 operas, Ricciardo e Zoraide is the 25th now being recorded by Naxos. A heroic opera based on legends attached to Ariosto's epic poems about Orlando and the Paladin knights of Charlemagne, it is quite long. The plot is unwieldy and unremarkable, but the music is forward-looking, "with dark-light contrasts, sophisticated melodic invention and the deployment of physical stage," like the use of off-stage orchestras for spatial effects for the first time. This top-quality recording has some spectacular voices, mainly tenors (of whom Rossini had an abundant supply), with the two rival lovers Maxim Mironov (Ricciardo) and Randall Bills (Agorante) outdoing each other in vocal acrobatics. Of the ladies, Alessandra Marianelli has the Colbran role as Zoriade, the damsel in distress, and Silvia Beltrami (mezzo-soprano) is the jealous queen; both gorgeous voices. When the four appear together expressing their conflicting emotions, Rossini exercises his heavenly powers in ensemble writing – later inherited and made immortal by (at the time) a certain five-year-old boy, Giuseppe Verdi.