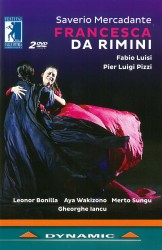 Saverio Mercadante – Francesca da Rimini (Pier Luigi Pizzi, direction; Gheorghe Iancu, choreography)
Soloists; Orchestra Internazionale d'Italia; Fabio Luisi
Dynamic 37753
Saverio Mercadante composed some 60 operas, but unlike his contemporaries Rossini, Donizetti and Bellini, he's completely unrepresented in today's active repertoire. Francesca da Rimini wasn't even performed until this world-premiere production at the 2016 Valle d'Itria Festival.
The ill-fated 13th-century adulterous lovers, Francesca da Rimini and Paolo Malatesta, have been depicted in Dante's Inferno and many operas, notably by Zandonai and Rachmaninoff. Historically, Lanciotto Malatesta killed his wife and brother upon discovering them in flagrante. In Mercadante's version, Lanciotto instead sentences them to death. Francesca's father, Guido, rescues them but when Lanciotto tracks them down, they commit suicide.
There's some lovely music here, particularly Francesca's Act One aria recalling past pleasures, and her love duet with Paolo, both episodes enhanced by prominent harp arpeggios. Soprano Leonor Bonilla (Francesca), mezzo Aya Wazikono (Paolo) and tenor Merto Süngü (Lanciotto) are dramatically convincing while negotiating the score's coloratura demands. Bass Antonio Di Matteo adds forceful stature as Guido.
A grey architectural backdrop serves as a wall of the palace, the dungeon and the convent where the lovers die. Wind-blown, flowing robes, gowns and curtains create incessant stage movement. Conductor Luisi keeps the music moving as well, but Francesca still takes over three hours to unfold. What the booklet notes call "Mercadante's propensity to a slower theatrical pace" likely contributed to posterity's neglect of his operas. There's enough good music, though, to make Francesca worth watching and pique curiosity about Mercadante's many other forgotten works.