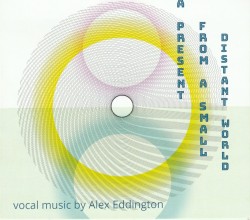 A Present from a Small Distant World: Vocal Music by Alex Eddington
Kristin Mueller-Heaslip; Daniel Ramjattan; Jennifer Tran; Joseph Ferretti; Elaine Lau; Alex Eddington
Redshift Records TK483 (alexeddington.com)
Toronto composer Alex Eddington made a splash in 2004, winning a SOCAN Award for his cheekily titled monodrama Death to the Butterfly Dictator! (libretto by Kristin Mueller-Heaslip). His ambitious vocal-focused debut album A Present from a Small Distant World is as unorthodox and in some ways just as cheeky.
Eddington's work embraces orchestral and choral music to electroacoustics, on the way adding period instruments and steel pan ensemble to his catalogue. And like much of Eddington's oeuvre A Present from a Small Distant World can certainly be branded eclectic. It consists of six art songs composed between 2008 and 2020 authoritatively sung by soprano Mueller-Heaslip, plus three aphoristic acoustic guitar-centred interludes, sensitively played by Daniel Ramjattan, disrupted by spacey, Morse coded electronics by Eddington.
One of the album's leitmotifs is interstellar communication. Its inspiration is revealed in the title track where Mueller-Heaslip sings part of Jimmy Carter's 1977 speech that launched the Voyager spacecraft. Onboard was the Golden Record, a phonographic metal disc with a cross-section of the words, images and music of humanity. Explains Eddington, "… there is something wonderful about sending greetings hurtling outward," even though chances they will be intercepted are slim.
The last track, INTERSTELLAR, To the Makers of Music (text: inscribed by hand on the abovementioned Golden Record) neatly brings together all the elements previously presented – (multi-tracked) vocals, guitar and electronics – atmospherically summing up Eddington's vision of music drifting through time and space toward an unseen audience.