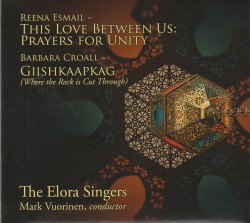 Reena Esmail – This Love Between Us: Prayers for Unity; Barbara Croall – Giishkaapkag
Elora Singers; Mark Vuorinen
Independent TESR-001 (elorasingers.ca/hear/recordings)
The professional Elora Singers have established a reputation as one of the finest chamber choirs in Canada, particularly known for their commitment to Canadian repertoire. This admirable new release on their own imprint features two contrasting large-scale choral works by Canadian composer Barbara Croall and American composer Reena Esmail.
The subtitle, Prayers for Unity, of Esmail's This Love Between Us (2016) tips listeners off to the composer's intent. The work's seven movements are titled after the major religious traditions of India: Buddhism, Sikhism, Christianity, Zoroastrianism, Hinduism, Jainism and Islam. Esmail has selected representative texts in the original seven languages from each, evoking unity, universal brotherhood and kindness. A signature element of the work is the inspired and effective incorporation of a Hindustani sitarist, vocal soloist and tabla player into the orchestral and choral texture, underscoring the fusion of North Indian and Western classical musical elements, both traditions Esmail is at home in.
Odawa First Nation composer and musician Barbara Croall's 2019 Giishkaapkag (Where the Rock is Cut Through) is scored for choir, percussion and the pipigwan (Anishinaabe cedar flute) eloquently played by the composer. The vocals are underscored by a powerful, elegiac text condemning the violence to the feminine in creation. "Due to colonization," writes Croall, "many women and girls likewise have suffered (and continue to suffer) … due to the many past and continuing violations of Shkakmigkwe (Mother Earth)." Referencing the present tragedy of murdered and missing Indigenous women, Croall reminds us that "the rocks bear witness and speak to us of this" – a message also heard clearly through her powerful music.