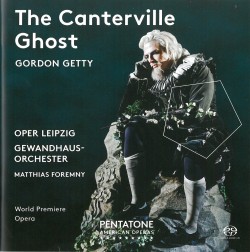 Gordon Getty – The Canterville Ghost
Oper Leipzig; Gewandhausorchester; Matthias Foremny
Pentatone PTC 5186 541
"Stage and page have different needs," writes composer Getty, son of billionaire Jean Paul, explaining in the CD's booklet the alterations in his libretto when adapting Oscar Wilde's novella. Wilde's whimsical tale remains essentially intact, however, with the Otis family moving into an English manor haunted by the 300-year-old ghost of Sir Simon de Canterville, unable to find release in death.
Instead of being frightened, Mr. Otis offers the Ghost oil to lubricate his chains, Mrs. Otis gives him a tonic to quell his moaning, and the young Otis twins throw pillows at him, push a cream pie in his face and douse him with water.
Only 15-year-old Virginia hasn't offended him. In the longest scene of the hour-long opera, the Ghost tells her, "You must weep with me for my sins… pray with me for my soul… and then… the Angel of Death will have mercy on me." His skeleton is discovered the next day. The final scene takes place five years later at Sir Simon's graveside, where Virginia, now married, sings a lovely duet with her husband, "Stay with me, beautiful," the opera's lyrical highlight.
The Canterville Ghost was premiered in Leipzig in 2015 by the performers on this disc. Bass-baritone Matthew Treviño is the forceful but sympathetic Ghost, soprano Alexandra Hutton is all sweetness as Virginia, and Getty's bright, witty score strongly supports the action.
This is a very stage-worthy and entertaining addition to the repertoire of one-act, English-language operas.