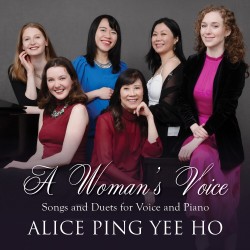 Alice Ping Yee Ho – A Woman's Voice
Jialiang Zhu; Vania Chan; Katy Clark; Maeve Palmer; Ariadne Lih; Alex Hetherington; Tong Wang; Andrew Ascenzo
Leaf Music LM254 (leaf-music.ca)
One of the most acclaimed composers writing in Canada today, Hong Kong-born Alice Ping Yee Ho continues to write in many musical genres, and her compositions for voice, known for stretching the skills of the most accomplished singers, are complex and colourful. Having enjoyed her Venom of Love Ballet in 2020, Ho's recent work A Woman's Voice – Songs and Duets for Voice and Piano is a beautiful and timely addition to the repertoire of contemporary vocal works. Based on texts including ancient Chinese poems from the Tang Dynasty, a war poem by English poet Charlotte Mew, as well as Ho's collaborations with seven Canadian writers from across the country, the 18 songs are a very full listen.
Reflecting the multicultural fabric of Canadian women, Ho writes in multi-lingual lyrics of English, French and Mandarin reflecting a wide variety of historical styles, using an all-Canadian cast of pianist/vocalist Jialiang Zhu and singers Vania Chan, Katy Clark, Maeve Palmer, Ariadne Lih and Alex Hetherington, with support from pianist Tong Wang and cellist Andrew Ascenzo. Celebrating the "female spirit," this album enjoys a concert feel, highlighting the varied relationships between women, with song titles ranging from Self-abandonment and Chit-Chat Café to The Madness of Queen Charlotte. A Woman's Voice is exquisitely delivered, ripe with history and humour.