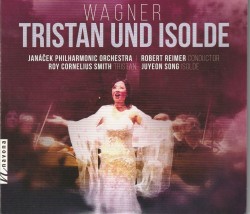 Wagner – Tristan und Isolde
Juyeon Song; Roy Cornelius Smith; Ostrava Opera Men's Chorus; Janáček Philharmonic Orchestra; Robert Reimer
Navona Records nv6321 (navonarecords.com/catalog/nv6321)
It's a plausible idea to remove opera from the opera house to the concert stage. It makes it more accessible to the public, much less expensive and musically just as satisfying. (I recall seeing Nabucco for the first time in New York, Carnegie Hall, with Tito Gobbi and Elena Suliotis in concert form and still treasure the memory). In this instance, Tristan und Isolde was performed in concert under the aegis of the Claude Heater Foundation of San Francisco at the Penderecki Cultural Center in Poland with the forces noted above. And what a performance! Thanks to Facebook I actually saw excerpts from it on a wide stage with the full symphony orchestra and soloists all at the same level and a large screen behind with projected images following the mood of each scene.
The result is this audio recording with young singers, largely unknown, and a wonderful orchestra from the nearby Czech Republic enthusiastically and passionately conducted by Robert Reimer, an up-and-coming young German conductor, well known and already very successful in Europe.
Tristan was sung by American heldentenor Roy Cornelius Smith with amazing vocal power and total emotional involvement shaping the difficult, strenuous role. Isolde is a big surprise: largely unknown Korean dramatic soprano Juyeon Song, a petite figure but what a voice! A vocal powerhouse with secure high notes; a strong and passionate Isolde. Just listen to her angry outbursts of indignation in the first act, the impatient longing when awaiting Tristan for their secret tryst, the sheer ecstasy of their first embrace and that wonderful love duet with waves of passion that never wants to end! South African mezzo, Tamara Gallo, a thoroughly convincing Brangäne, shines in her soliloquy warning the lovers of the coming danger, and American basso John Paul Huckle as King Marke is perfect as the wronged husband. Excellent spacious sound favours the singers. An impressive new issue, highly recommended.