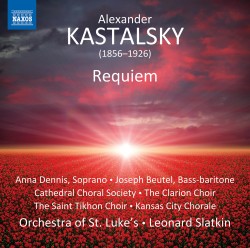 Alexander Kastalsky – Requiem
Soloists; Choirs; Orchestra of St. Luke's; Leonard Slatkin
Naxos 8.574245 (naxosdirect.com/search/747313424573)
Alexander Kastalsky's vision for his grand Requiem for Fallen Brothers – which included all those who died in WWI on both sides – was summarily snuffed out because by the time he was ready to unveil it on stage, in 1917, political power in Russia was in the hands of the Bolsheviks. More tragically his cross-cultural, 17-movement requiem – a work of immense proportion in which he weaves not only Latin and Orthodox rites in multiple languages, but even manages to use Eastern music, seamlessly and with dark grandiosity – remains virtually unknown within the canon of Western classical choral-orchestral works.
Appropriately, this definitive recording, featuring the Orchestra of St. Luke's conducted by Leonard Slatkin, brings together a spectrum of players including the Cathedral Choral Society, the Clarion Choir, the Saint Tikhon Choir and the Kansas City Chorale, who illuminate the work's breathtaking array of meditative, sparse and nimble sonorities.
This is a highly reverential recording, distinguished by exquisite solo contributions from soprano Anna Dennis and bass-baritone Joseph Charles Beutel, supported with fine choral work by all of the vocal ensembles. Together they turn this awe-inspiring requiem into something truly memorable from the darkness of the Confutatis and the following Lacrymosa, the undulant Interludium: Hymn to Indra and the magnificent Domine Jesu. Through it all, Slatkin reveals the inner logic and structural grandeur of this complex work with exemplary clarity and inner detail.