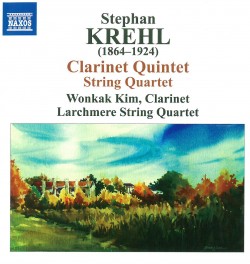 Stephan Krehl – Clarinet Quintet; String Quartet
Wonkak Kim; Larchmere String Quartet
Naxos 9.70173
Another unfairly forgotten composer re-emerges thanks to an enterprising ensemble and record company. This is, apparently, Stephan Krehl's debut on CD, as it is for the Larchmere String Quartet, based at the University of Evansville in Indiana.
Krehl (1864-1924) was a fixture at the Leipzig Conservatory as student, teacher and author of books on theory and composition, eventually becoming the conservatory's director. Although a contemporary of Mahler and Richard Strauss, Krehl was no forward-looking stylistic adventurer, instead drawing inspiration from Schumann, Brahms and one of his predecessors as Leipzig Conservatory director, Mendelssohn.
Yet for all his looking backward and academic credentials, the music on this CD never sounds imitative or academic. The performances are similarly un-stodgy, expressive and vivacious. Krehl's String Quartet Op.17, published in 1899, is filled with attractive, yearning melodies and unexpected, engaging changes of texture, tempo and rhythm. In the Clarinet Quintet Op.19, the strings are joined by Wonkak Kim, professor at Tennessee Tech and a regular Naxos artist. Krehl's Quintet, published in 1902, is patterned on that of Brahms, even being written for and dedicated to clarinetist Richard Mühlfeld, for whom Brahms had composed his Quintet. Again, we are treated to wistful melodies, imaginative part-writing and frequent, effective changes of mood.
Considering Krehl's obscurity, I was happily surprised by just how good and downright enjoyable this music is, with lovely melodies and attention-holding narratives. Naxos, more Krehl, please.