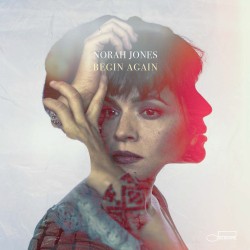 Begin Again
Norah Jones
Blue Note Records B002978602 (bluenote.com)
Begin Again is the reflection of an artist who's continuing to develop and evolve. Norah Jones first came on the scene in 2002 with Come Away With Me, which introduced a fresh, gorgeous voice with a jazz sensibility that was a shift from the prevailing pop music of the time. That release turned Jones into a global phenomenon and over the years, she's continued to release successful, Grammy-winning records and collaborate with a diverse range of artists like Herbie Hancock, Outkast and Foo Fighters.
Begin Again is an eclectic collection of original tunes co-produced by Jones and recorded at various studios with a handful of collaborators such as guitarist Jeff Tweedy of Wilco fame and drummer-extraordinaire, Brian Blade. The tone is set with the powerful opening track My Heart is Full and many of the songs, such as Uh Oh and Just a Little Bit, continue in that experimental vein, with the musicians laying down a meditative bed and Jones layering vocals over top. The album is keyboard dominant, courtesy of Thomas Bartlett, Pete Remm and Jones herself. Although calling Remm's sublime Hammond B3 work "dominant" isn't capturing the subtle textures he lends to the songs.
Missing from Begin Again are some of those exquisite, soulful ballads that Jones does so well – though Wintertime comes close. So while the album is a good listen and full of fine musicianship, it won't break your heart.