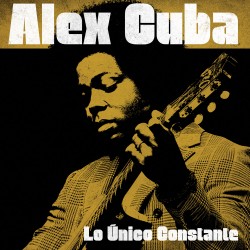 Lo Único Constante
Alex Cuba
(healer.alexcuba.com)
Canadian-Cuban multi-instrumentalist, vocalist, composer and producer Alex Cuba (né Alexis Puente) is wearing all of his many hats on his latest superb release, Lo Único Constante (Constantly Unique). The recording is dedicated to the seminal musical artists of Cuba's "Filin Movement" (including José Antonio Méndez, César Portillo de la Luz and Marta Valdés) who have been a profound influence on Cuba and the development of his own unique style, which embraces not only Afro-Cuban motifs, but also funk, jazz and pop. Cuba, who performs here on acoustic and electric guitars, requinto, Hammond B3, acoustic bass, drums, cajon and vocals, has collaborated with more than a dozen fine musicians to bring this dynamic project to fruition – a project that is focused on the blessed concepts of hope, peace, unity, love and the power of positive change.
The CD opens with the lovely En Mi Guitarra – in the words of Cuba, "a voice found its way into my guitar…giving me power to create beautiful melodies, while controlling my choice of notes and silences." Sumptuous string lines move effortlessly through the composition – as does Cuba's equally sumptuous voice. Other highlights include the stirring, syncopated Yo Sé Quién Soy (I Know Who I Am) and the moving Ahora (Now), rendered in pure guitar, voice, strings and minimal percussion. This exceptional recording closes with the compassionate Lagrimas Del Que Llora, which features Josemi Carmona's stirring flamenco guitar.
It's not necessary to understand Spanish to resonate with the deep emotional content here, as all meaning is conveyed in the universal language of music, and in the tradition of some of the finest musician-composers that Cuba has every produced – of which Alex Cuba is most definitely one.