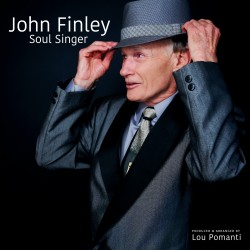 Soul Singer
John Finley
Vesuvius Music (johnfinleymusic.com)
Vocalist and composer John Finley's impressive career includes more than 50 years of navigating the heady waters of blues, popular music, gospel and soul. During that time, not only has Finley established himself as a compelling and vibrant performer, but also as a fine composer and noted crafter of hit tunes. He has shared the stage with an array of top-flight artists, including the Rolling Stones and The Temptations. After an extended stay in LA, Finley returned to his native Toronto in 2018 and subsequently released perhaps the finest recording of his soulful career.
Brilliant producer/arranger Lou Pomanti is a driving force behind this project, having co-written two tunes and performed on piano, organ and keyboards. The fine cast of musicians also includes Marc Rogers on bass, Larnell Lewis and Davide Direnzo on drums, John Findlay and Sam Pomanti on guitar, William Carn on trombone, William Sperandei and Tony Carlucci on trumpet and Alison Young on Saxophone.
Nearly all 11 compositions on this album were penned or co-penned by Finley, and first at bat is Let Me Serenade You. Gospel motifs saturate this soulful, B3-driven tune and Finley's well-lived-in, elastic tenor swoops and dips through this joyful track, replete with exquisitely placed horn lines and swinging, rhythmic, background vocals. Other highlights include GO, an uber-cool journey into a deep cave of funk and also the enervating closer, Who Will the Next Fool Be – a languid, down-home blues tinged with just the right amount of ennui, vigour and regret by Finley. This exceptionally conceived, produced, written, arranged and performed album is one of the most musically and emotionally satisfying recordings that I have had the chance to experience this year.