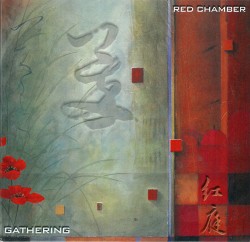 Gathering
Red Chamber
Za Discs N17 mei-han.com
Review
Red Chamber is not your typical Chinese string band. The Vancouver-based group has seriously eclectic, transcultural tastes. Led by the zheng scholar and virtuoso Mei Han, the group includes Guilian Liu on pipa, Zhimin Yu on zhongruan, daruan, and Geling Jiang on sanxian and zhongruan. They are all masters of their respective plucked Chinese string instruments.
Already well established as professional musicians in mainland China, these women sought a second home on Canada's west coast where they have expanded both their careers – and ears. Mei Han reflects on this process of cultural awareness: "[As we] travelled around the world and collaborated with artists from a wide range of cultures, we have grown to become more open and aware."
Gathering, their second album, exhibits influences of diverse musics discernable in the inclusion of instruments such as the tabla, djembe, dumbek and gong. Multiethnic melodic layers are also in ample evidence. The scores variously draw on Chinese, Arabic, West African, Klezmer, Greek, Turkish, Cape Breton and Métis sources, performed on Red Chamber's Chinese plucked strings. The latter range from the brittle high-trilled notes of the pipa to bass daruan tones.
The album's success owes much to Vancouver composers Moshe Denburg, John Oliver and Randy Raine-Reusch. They each contributed scores, exploring this transcultural terrain, which were then skillfully articulated and extended by the musicians. Just one example: while Ah Ya Zein, an Arabic love song arranged by Raine-Reusch, is culturally anchored by Gord Grdina's moody oud expositions, it is MeiHan's inspired mercurial zheng solo that provides the most unexpected musical thrill.
I saw Red Chamber live at Toronto's Music Gallery in 2010. I was mightily impressed not only by the individual virtuosity of the musicians, but also by their tight ensemble and culturally inclusive repertoire. Until they grace a hall near you, this enjoyable record is the closest to a transnational musical Silk Road journey you can experience.