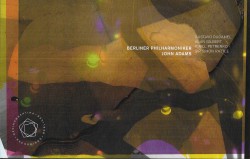 John Adams
Berliner Philharmoniker; Gustavo Dudamel; Alan Gilbert; Kirill Petrenko; Sir Simon Rattle
Berliner Philharmoniker Recordings BPHR 170141 (berliner-philharmoniker-recordings.com)
This set of recordings is uniquely presented in an elegant, creatively designed package of quality. In his forward, Simon Rattle writes "John Adams is the Berliner Philharmoniker's first official composer-in-residence during my 15 years as chief conductor of the orchestra. We have known each other for more than 30 years. I was in my late 20s when I first became aware of his music. Ed Smith, who ran the City of Birmingham Symphony Orchestra with me, played me Harmonium. It made a huge impression on me. It's one of his earliest works for orchestra and chorus and it packs a huge and ecstatic punch. His music has unbelievable energy and joy and hunger for life that transmits itself to people of all ages…. John is such an open, generous, self-deprecating person that it's sometimes hard to believe that he is a great composer as well. He's managed to keep a special depth of humanity, and I think that comes through in the music."
There are seven works in this collection, including the three larger works on CD, all duplicated with extras and documentaries on the Blu-ray video discs. Harmonielehre, for orchestra is conducted by Adams and the dramatic symphony, Scheherazade.2 has Adams in charge with an astounding Leila Josefowicz, violin. The Gospel According to the Other Mary is an oratorio in two acts devised by Peter Sellars who selected the texts. Rattle conducts three prime soloists, three countertenors, chorus and orchestra.
It is predictable that a conversation between Adams and Sellars would be both fascinating and enlightening as they discuss The Gospel According to the Other Mary. The meaning and message of the oratorio's text and its impact inevitably leads to reflections on much of the world today.
Here is what the others batoneers did: Alan Gilbert, Short Ride in a Fast Machine and Lollapalooza; Gustavo Dudamel, City Noir; Kirill Petrenko, The Wound-Dresser.
This is a most enjoyable creative concept, with authoritative performances in state-of-the-art sound and vision.