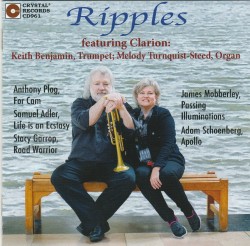 Ripples
Clarion: Keith Benjamin; Melody Turnquist-Steed
Crystal Records CD961 (crystalrecords.com)
When I hear trumpet playing with organ, I am immediately in church, willingly or not, and there is no shortage of the expression that brings me there on this disc. Kansas City, MO-based duo Clarion, made up of trumpeter Keith Benjamin and Melody Turnquist-Steed on organ, has released a collection of works written for them by a range of contemporary American composers.
The most current, or at least the youngest of these, is Adam Schoenberg (b.1980) a graduate of Oberlin College and the Juilliard School of Music. He now teaches composition and film scoring, which certainly shows in the bold and highly visual quality of Apollo, which aims in the first movement, Beyond, to depict the majesty of outer space. To my mind it's fairly effective character-filled music that could evoke a mountainscape as readily as astral travel, but he does refer somewhat to Holst's harmonies and even Mercurial playfulness here, so...
The second movement, Light, is prayerful and lovely, as American as Copland, and I'm back in church again.
Not all the works are as strong, but I did enjoy Passing Illuminations by James Moberly, and Stacey Garrop's Road Warrior comes across as the most daring and experimental, especially in using the organ to provide interesting and unusual effects. The title refers to a book written by the late Neil Peart, of Rush, who took to the road mourning the loss of a child and spouse. The connection is intentional: this and one other of the works presented refer indirectly to the death of Benjamin's son to leukemia in 2010. Ripples spreading out from that event might well describe the impetus behind this loving collection of new works.