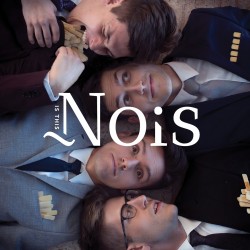 Is This ~Nois
~Nois
Independent (noissaxophone.com)
Is this ~Nois (pronounced "noise") opens with an intense performance of a riveting work: Hans Thomalla's Albumblatt II. The sounds are both discordant and beautiful with half the quartet playing long vibrato-less tones alongside the others who play extremely drawn out multiphonics. The contrast and volume builds for most of the piece's four and a half minutes. It is a no-holds-barred introduction to this young quartet from Chicago. Craig Davis Pinson's Dismantle has all four players on alto saxophone and combines effective use of pad slapping, multiphonics and altissimo register in a very percussive and rhythmic piece. Niki Harlafti's Vaisseau Fantôme has the quartet playing seven saxophones over its length and is inspired by Ornette Coleman's album Free Jazz.
The quartet is "dedicated to the creation and performance of contemporary music" and has commissioned several of the pieces on the album. Most works utilize extended ranges, multiphonics and use of different saxophone configurations outside the standard soprano, alto, tenor and baritone quartet. This album is fresh and intense and I have to compliment the quartet on their bold and unique commitment to saxophone repertoire. Let's have more ~Nois!