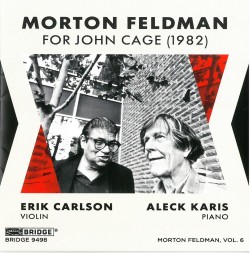 Morton Feldman – For John Cage
Erik Carlson; Aleck Karis
Bridge Records 9498 (bridgerecords.com)
For John Cage (1982) scored for piano and violin is late-period Morton Feldman (1926-1987). That typically means a very lengthy work in a single continuous movement – more than 71 minutes in this recording – that explores a glacially paced musical development and very quiet sound levels.
In a 1982 lecture Feldman asked, "Do we have anything in music … that just cleans everything away?" For John Cage offers his answer. A tribute to one of Feldman's most enduring personal and professional relationships, it's a platform for his musical concerns at the time. These include translating meaningful visual and textural effects he found in Turkish regional carpets into musical patterns and sonic gestures. The two musicians, violinist Erik Carlson and pianist Aleck Karis, render the composer's ideas with precision and delicacy in equal measure.
Feldman was a frequent visitor to Toronto during the 1970s when he taught at the University of Buffalo. Later he married his Canadian composition student Barbara Monk, who established a home in midtown Toronto where she held soirees after her husband's death. While attending two of these soirees, I was particularly fascinated by the walls covered with kilim carpets, a physical reminder of a source of Feldman's late period inspiration.
Leaning toward a minimalistic aesthetic in its use of subtly varied melodic phases and a restrained abstract formalism, don't expect tunes you can hum along with, or grooves to tap your toes to here. While this music will be challenging for some listeners, I personally find it a searching, engaging and rewarding listen.