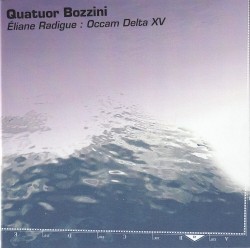 Éliane Radigue – Occam Delta XV
Quatuor Bozzini
Collection Quatuor Bozzini CQB 2331 (actuellecd.com)
French composer Éliane Radigue has for much of her long career made electronic music, but 2004 marked a turning point. She has dedicated herself since then to composing for acoustic instruments, resulting most notably in over 80 (!) works for various forces in her extended Occam cycle. These compositions were inspired by William of Ockham's (c.1287-1347) Occam's razor principle, which in its most succinct form states that the simplest proposition is very likely the best. Premiered by Montréal's Quatuor Bozzini in 2018, Delta XV for string quartet is among the latest in Radigue's Occam series.
For over two decades Bozzini has been a staunch advocate for contemporary string quartet music. They're known for cultivating experimentation and collaboration, fearlessly nurturing an impressively large and diverse repertoire including those on the 2015 album Higgs Ocean with Toronto's Evergreen Club Contemporary Gamelan.
Fascinatingly, Radigue developed Occam Delta XV through a collaborative "oral composition process" with the quartet. Dispensing with a fully notated score and relying on its oral transmission may well have been the most straightforward approach here – in the spirit of Occam's razor – especially for a composer steeped in synthesizer music.
This premiere recording of Occam Delta XV offers two distinct Bozzini interpretations. Seemingly a slowly unfolding series of stacked chords sustained throughout, the music tests the four musicians' skills in ensemble intonation, microtonal beating, string harmonics and group dynamics. Bozzini's deeply attentive performance reaches through the recording, touching this listener. As for Radigue's work, it effectively challenges expectations of music creation, performance and listening.