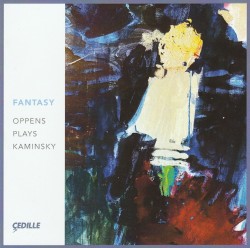 Fantasy – Oppens plays Kaminsky
Ursula Oppens; Jerome Lowenthal; Cassatt String Quartet; Arizona State University Orchestra; Jeffrey Meyer
Cedille CDR 90000 202 (cedillerecords.org)
Titan of the contemporary keyboard, Ursula Oppens is a rarity among artists living today. She is the stalwart bearer of a mid-century musical torch that apparently burns eternal. How fortunate we are to have such musicians as Oppens still making music with fortitude, passion and tireless faith.
A most recent episode for Oppens has been a record made with the Cassatt Quartet and Arizona State University Orchestra showcasing music of American composer Laura Kaminsky. This disc, themed "Oppens Plays Kaminsky" seems a testament of friendship (these two impressive musicians have been longtime pals). Presently, they come together in a variety of idioms to demonstrate Kaminsky's portfolio in a traversal of quintet, fantasy and concerto.
Despite evocative titles such as Maelstrom, and…, or Hurtling. Still. the music isn't always convincingly first rate. Nevertheless, there are moments of tunefulness and poetry. The affinity between Oppens and Kaminsky radiates throughout, leaving a palpable sense of fellowship and mutual joy amongst colleagues.
Oppens wields her piano at the album's centre, steering a varied vessel with consistent skill and surety. Even in brief piano passages, as she peeks out from dense ensemble material, Oppens' artistry sings unmistakably. The 20-minute solo Fantasy (2010) should be considered a tour de force in and of itself. When it comes to a career such as Oppens', dedication and staying power carry the day. May she always urge us to listen close and listen well, ever compelling our ears toward the future.