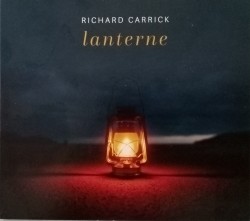 lanterne
Richard Carrick
New Focus Recordings FCR273 (newfocusrecordings.com/catalogue)
American Richard Carrick's phenomenal artistic abilities, including composer, pianist, artistic director and educator, are showcased in his sparsely orchestrated compositions.
Title track laterne, for solo bass flute, performed by Margaret Lancaster, is an exciting listen, with breath and voice vocalizations, booming sounds, repeated rhythms and held notes driving the intense climax and the final faster fade with closing yelp. Carrick joins her on piano in une, a short and sweet roughly one-minute musical delight! Carrick performs with bass clarinettist Vasko Dukovski in the Korean vocal-music-influenced Sarang Ga. A quiet start leads to abrupt low piano chords and wide-ranging bass clarinet accents, melodies with dramatic squeaks, and a very modern tonality "echo" ending. Three works draw on the traditional Korean Gugak music. Highlight is the unique ensemble colours that surface in sandstone(s), as Western (New York New Music Ensemble) and Korean traditional instruments (Musicians of the Gugak Contemporary Orchestra) perform together.
The four-movement Space:Time – String Quartet # 2, performed by the Mivos Quartet, is musical space travel. Movement I, Claustrophobia, recreates spaceship solitude, with high-pitched, almost painful tight dissonances, accents at the end of ascending lines and tension-breaking brief use of lower lines. Low pulling down grounding tones and floating high counterpoint drive the storytelling in movement II, Gravity.
Four additional works and other great performers complete this Carrick collection of beautiful intimate sounds to appreciate even in pandemic isolation!