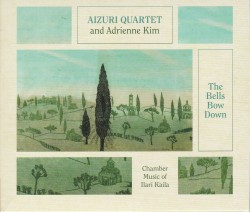 The Bells Bow Down – Chamber Music of Ilari Kaila
Adrienne Kim; Isabel Gleicher; Aizuri Quartet
Innova Recordings innova 036 (innova.mu)
This well-conceived and well-crafted recording is a magnificent presentation of works by Finnish-American contemporary classical and theatrical composer, Ilari Kaila. Produced by Kaila and Silas Brown, the album features his noted single-movement piano quartet, The Bells Bow Down (Kellojen kumarrus) In Memorium Hanna Sarvala, the five-movement Taonta and four other works. The interpreters of this challenging music are the internationally regarded, multiple award-winning Aizuri Quartet, which includes Ariana Kim and Miho Saegusa, violins; Ayane Kozasa, viola; and Karen Ouzounian, cello. Also joining the stellar cast are the luminous pianist, Adrienne Kim; and flutist, Isabel Gleicher.
The title track is constructed out of non-corporeal gossamer light and sonorous strings, which wrap themselves lovingly around the heart of the listener. The grief, pain and loss contained in this work are palpable. Pianist Kim enters with elemental, percussive chords, bringing to mind tolling church bells, as she wends her way through the turgid waters of raw emotion. The majesty of this composition demands complete commitment, bravery and technical skill from all of the artists involved, which it receives in spades.
The nearly unbearable beauty of Hum and Drum's Philip Glass-like repetitive themes easily floats the listener into a trance-like state and Wisteria seems to speak to loneliness and isolation, and perhaps the long winter of the Norse soul. Kaila's Taonta is also a triumph for the pianist, and one cannot imagine a truer manifestation of the composer's intent. A modern masterpiece.