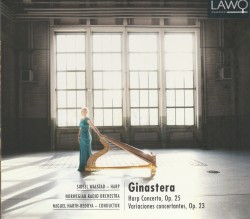 Ginastera – Harp Concerto Op.25
Sidsel Walstad; Norwegian Radio Orchestra; Miguel Harth-Bedoya
LAWO LWC1182 (naxosdirect.com/)
Astor Piazzolla may be more celebrated a musical figure in contemporary Argentina, but Alberto Ginastera is perhaps its most exalted composer. His career spanned almost 50 years (1934-1983). Through all three phases – objective nationalism, subjective nationalism and neo-expressionism – Ginastera remained the greatest exponent of the Argentinean gauchesco tradition which holds that the gaucho – a native, landless horseman – is the icon of Argentina. In the last decade or so of his life, the composer's appeal was so great, his influence stretched into many musical styles including jazz and so-called progressive rock.
The selections on this disc, featuring harpist Sidsel Walstad and the Norwegian Radio Orchestra conducted by Miguel Harth-Bedoya, are emblematic of Ginastera's great gift for creating epic compositions that evoke Argentinean music and dance traditions. These he skillfully integrated into classical forms contemporaneous with the 20th century. Romanticism is never very far away, of course, and this is clear from both Harp Concerto, Opus 25 and the 12 Variaciones concertantes, Op.23.
Both Walstad and the orchestra deliver fine performances of two of Ginastera's eminently paradigmatic works. Walstad's playing is eloquently dreamy and distinctively ripe in tone. Her performance, based on the 1968 revision (also performed by Nicanor Zabaleta), is scintillating. The orchestra, under Harth-Bedoya's baton is stunning. What musicians across the board deliver is startlingly fresh and alive.