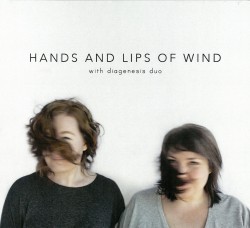 Hands and Lips of Wind
Diagenesis Duo
Independent (diagenesisduo.com)
You know that you're already in for something special when you read that the Diagenesis Duo comprises a soprano – Heather Barnes – and a cellist – Jennifer Bewerse. That Barnes turns out to be decidedly bel canto with an ability for breathtaking coloratura and that Bewerse draws from her instrument every possible sound short of a human voice is the seductively beckoning cherry on the proverbial cake.
The two settings of Mischa Salkind-Pearl's profoundly ethereal Hands and Lips of Wind are intensely dramatic. This work, together with con mortuis in lingua mortua, Stephen Lewis' powerfully elegiac piece, and a fresh arrangement of the constantly shifting Travels by Adam Scott Neal were commissioned by the duo. The album also includes the viscerally sprung Nine Settings of Lorine Niedecker, a series of miniatures by Harrison Birtwistle; all of which is music made in the realm of heaven.
Bewerse is not the only one who pushes the envelope, vaulting and diving up and down the registers of the cello – no easy task given its tuning in perfect fifths an octave beneath the viola and an octave above the contrabass – but swathed in the leaping melisma and daring coloratura of Barnes, the duo sculpts this diabolically complex music with impossible precision. It is music seemingly in the twilight of tonality but it is utterly seductive, with the cerebral clarity and the stunning instinctiveness with which both musicians approach the five gems in this repertoire.